Heritage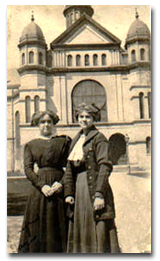 In 1843, four Sisters of the Holy Cross came from Le Mans, France, to share in the apostolate of education with the priests and brothers of Holy Cross who had been sent by the bishop of Vincennes to open a college in northern Indiana. One year later, in 1844, the sisters opened their first school in Bertrand, Michigan, a few miles from Notre Dame du Lac.
In 1855, the school moved to its present site and grew to become Saint Mary's College, a recognized leader today among Catholic women's colleges in the United States.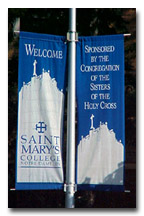 Called into being in response to the petitions of parents who desired a Christian education for their daughters, the school has met the recognized needs of each generation of students. Then, as now, a strong background in the liberal arts was deemed essential for women who were educated to assume leadership roles in the religious, social and economic structures of their day. Today, the college continues to fulfill its ongoing mission of a Catholic women's college dedicated to the total development of its students.
Click here to learn more about the Sisters of the Holy Cross