175th Anniversary Celebration Events
In our 175th year, Saint Mary's hosted special events to unite our community and celebrate the lasting legacy begun by the Sisters of the Holy Cross. We encouraged all to join the festivities with events such as a trip to New York, Reunion, or join us for a special lecture — taking part in lifting up the accomplishments of Saint Mary's graduates, faculty, and staff, who have all played a role in making us the strong institution we are today.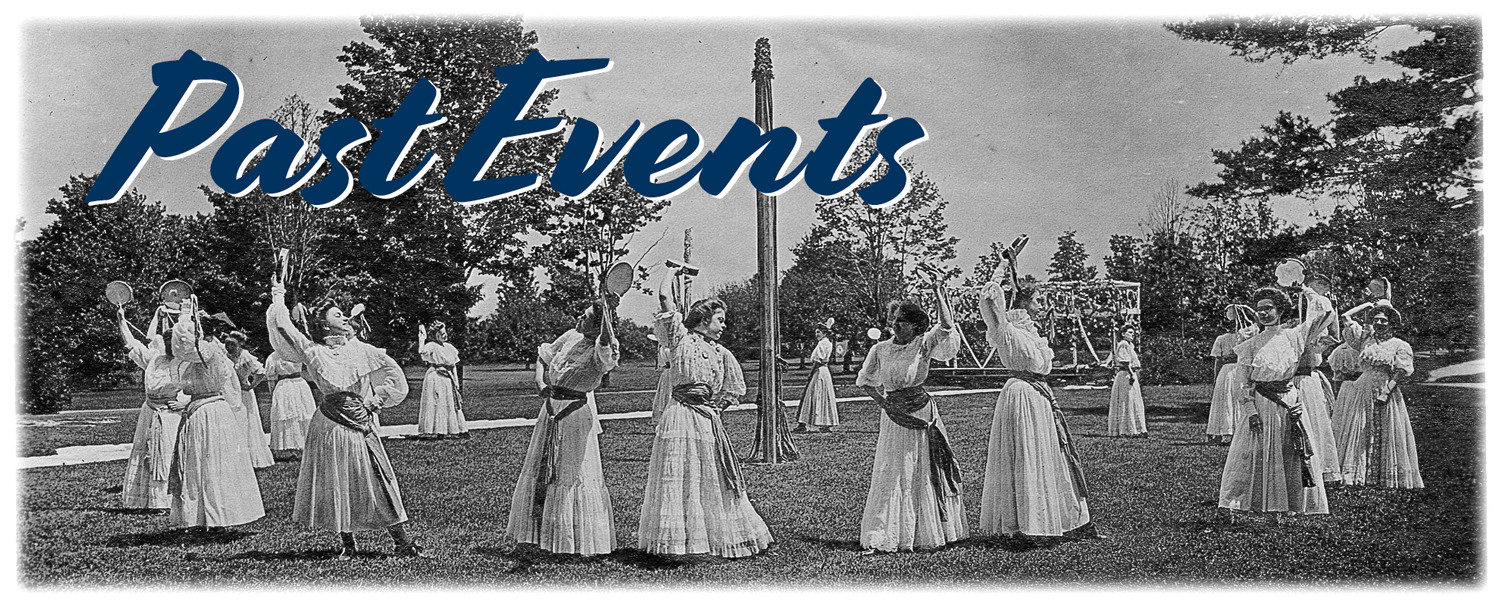 Jan
20
Kickoff Celebration
Learning, Faith/Spirituality, Justice, and Community are the core values of Saint Mary's College. Join us as we kick off the 175th anniversary in day of events that celebrate the central aspects of a Saint Mary's education, all on the feast day of Blessed Basil Moreau. Participate in Saint Mary's Serves, a community-wide service project, at 12:45 p.m. in Regina, before the Opening Liturgy of the 175th Anniversary of Saint Mary's College at 3:30 p.m. at the Church of Our Lady of Loretto, followed by the Annual Moreau Dinner at 5 p.m. in the Noble Family Dining Hall (Invitation Only).
Mar
14
Belles Take the Big Apple: NYC Alumnae Trip
When the Sisters came over to the United States, they arrived in New York. Gather your fellow Saint Mary's women to reconnect during a celebratory weekend in the Big Apple. The weekend includes a tour of NBC studios led by a fellow alumna, a Broadway play, and culminates with a Women's Choir performance at Carnegie Hall. >> Register here!
Mar
17
Women's Choir Performance at Carnegie Hall
Each spring, the Women's Choir sets out on a tour that unites them with alumnae, friends, parents, and members of the Saint Mary's community, whether through host-stays, coordinated performances with alumnae, or by chance. They end their tour with a special celebratory concert and this year it is at Carnegie Hall. The performance will include alumnae-led choirs and music with a special devotion to Mary, our mother and namesake. Save 30% on tickets with promo code DCG30382 >> Get Tickets!
Mar
25
Celebrate the Legacy of the School of Sacred Theology
Established in 1943, the School of Sacred Theology at Saint Mary's College was the first program in the United States to provide graduate education in theology to women. Responding to the needs of the times to lift up women's voices in the field of theology, the College empowered some of the first female theologians. Theologian Sandra Yocum with a speciality in Catholic studies will offer a celebratory lecture at 7 p.m. in Rice Commons. Graduates of the School of Sacred Theology will be honored with a dinner in Stapleton Lounge before the lecture. (Dinner is Invitation Only) 
Apr
25
"Theologizing in an Insurgent Key, Subverting Violence Against Women"
The Madeleva Lecture is a longstanding tradition, named for the College's third president Sister M. Madeleva Wolff, CSC. For more than three decades, the lecture series has given voice to women scholars in the discipline of theology. This year's lecturer Nancy Pineda-Madrid, a widely recognized and well-respected speaker, explores the intersection of systematic theology and practical theology. (Dinner is Invitation Only) >> More information on the lecture is available here.
Apr
26
New Voices Seminar for Women in Theology
To explore many dimensions of spirituality and engage the life of the mind and spirit, the New Voice Seminar brings together women scholars from around the country for professional development and mentoring from the 2019 Madeleva Lecturer Nancy Pineda-Madrid.(Invitation Only)
May
2
Saint Mary's Symposium: Research and Creative Scholarship
Since our founding, we have been committed to discovery. Through the unique senior comprehensive project and in grant-funded projects, Saint Mary's women and faculty have been and are currently involved in important research in the sciences and creative work that celebrates and examines the human experience. Join us for a day-long event featuring student and faculty research and creative projects in panel discussions and interactive sessions. The day culminates with a social hour and a poster session at 4:30 p.m. in the Student Center. 
May
22
Engaging Women Conference
This transformational networking event provides women in the Michiana community opportunities to accelerate growth and deepen their impact in both their professional and personal lives. Join us for the largest women's conference in Michiana that brings together women and empowers them to respond to the needs in our community. Register today!
May
30
Reunion Weekend
We welcome home classes ending in 4s and 9s to celebrate the 140th anniversary of the Alumnae Association! Reconnect with fellow alumnae during a special Reunion weekend that celebrates the lasting bonds between Saint Mary's women. As the oldest Catholic women's college alumnae association, you will have a chance to relive your Saint Mary's experience and make new memories with the friends new and old. 
Jun
21
Alumnae Retreat: Gifts of the Spirit, Charisms of Holy Cross
There's no question that the Holy Spirit was alive in the hearts of the Sisters who founded Saint Mary's College 175 years ago. This special retreat invites you to reflect on the empowering presence of the Holy Spirit in your own life and on your gifts, relationships, and vocational path. Registration ends April 24th and space is limited! >> Register Today!
Sep
8
Mary, Bearer of the Eternal Word: An Ecumenical Hymn Festival in Celebration of the 175th Anniversary of Saint Mary's College
To commemorate our 175th Anniversary, a festival of hymns celebrating Mary, Bearer of the Eternal Word, will be held at 3 p.m. in Church of Our Lady of Loretto. The festival will explore Marian hymns by looking at some of the many names given to Mary by Christians throughout the ages. Join us for an afternoon of music in devotion to Mary to whom Saint Mary's College has been dedicated for 175 years.
Sep
19
Christian Culture Lecture – Alice McDermott
Saint Mary's will welcome award-winning novelist and Johns Hopkins University's writer-in-residence Alice McDermott for the annual Christian Culture Lecture. McDermott's novel, The Ninth Hour, was selected as the One Book, One Saint Mary's for 2018—19. Join us at 7:30 p.m. to hear a prolific writer share her experience, as she explores faith and its impact on daily life. Get tickets!
Sep
22
Discover Saint Mary's: A Walk in Time
Discover Saint Mary's: A Walk in Time is almost here! 
Check-in begins at 12:15 p.m. in O'Laughlin Auditorium, where you'll receive your pilgrimage map and Moreau Dinner meal ticket for those who have pre-paid.
At 1 p.m. we'll come together in the Church of Our Lady of Loretto for an opening service, where you'll be commissioned as pilgrims. 
Please note the opening service has been moved from Le Mans Circle Green due to uncertain weather conditions.
You're invited to stop at the sites of interest to you at your own leisure. Exclusive pilgrimage sites are scattered throughout campus, both indoors and outdoors. Because this event is rain or shine, be sure to bring an umbrella.
The Moreau Dinner will be served between 4:30 p.m. and 7:30 p.m. in the Noble Family Dining Hall. Meal tickets can be purchased on-site for those who have not made reservations. 
Oct
18
Women of the Church Conference
The Center for Spirituality hosts the Women of the Church national conference on the very campus where Catholic women's voices have been lifted for 175 years. The weekend will highlight the diverse work of Catholic women in the Church and in the world, examine how women's leadership is a source of strength and knowledge, and imagine new possibilities for women as leaders in the Catholic Church. Hear from theologians and writers, lay and women religious, forging the path ahead for Catholic women. Register today!
Nov
8
Literary Festival
Honoring our long tradition of literary arts, the inaugural Saint Mary's College Literary Festival is coming to campus on November 8–9. Hosted by NYT bestselling author and alumna Adriana Trigiani '81, members of our community have an opportunity to meet and hear presentations by Trigiani and nine bestselling authors of fiction and nonfiction, acclaimed poets and dramatists in theater and film.  Register today!
Nov
21
Saint Mary's College High School Treble Choir Festival
In recognition of the 175th anniversary of Saint Mary's College and the 35th anniversary of this festival, we have commissioned a new work from composer Andrea Ramsey for this occasion. "The Dark Is Shattered" is a setting of a poem by Sister M. Madeleva Wolff, CSC. Join us November 21–22 from 9 a.m. to 4:30 p.m. in O'Laughlin Auditorium for a festival that has given young women the stage for more than three decades and brings together 20 choirs from neighboring states to perform for each other and a panel of commentators.
Dec
15
Closing Celebration — Lessons and Carols: Looking Forward
At our annual Lessons and Carols Christmas service, the College will be concluding the year-long anniversary celebration of 175 years of educating and empowering women. With sacred song, scripture, and readings from different periods in the College's history, we will celebrate all that has been achieved and look forward to continuing our mission into the future.The celebration continues with a special reception immediately following Lessons and Carols.
Church of Our Lady of Loretto // 7 p.m.