Alumnae Profiles
Timing is Everything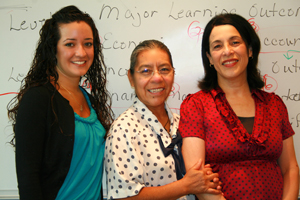 Veronica Valdez, Gloria, and Martha Smith, WEI project director.
Veronica Valdez '10 concentrates in front of a computer screen with her client, Gloria. Valdez is helping Gloria, a local entrepreneur with a religious books business, design her website. Gloria poses a question in Spanish and Valdez answers in kind, adjusting something on the screen.
Since graduating from Saint Mary's, Valdez has been working for the Women's Entrepreneurship Initiative (WEI), a new program sponsored by the Center for Women's Intercultural Leadership (CWIL). 
Valdez meets with local businesswomen like Gloria every Tuesday and Thursday in the Department of Business Administration and Economics in Spes Unica Hall. There, Valdez assesses their needs and assists them in various entrepreneurial endeavors like Web site design, bookkeeping, and obtaining necessities like merchant certificates from the Internal Revenue Service.
Ever resourceful, Valdez makes use of what's available to her. She scouts out free website hosting services and works up inventory tracking charts in Microsoft Excel. Valdez is bilingual and graduated with a degree in accounting, two qualifications that landed her the internship with WEI.
But it's her easy confidence and professional poise that make Valdez a standout at her job. She lets the WEI clients know off the bat that she's there to help. "Timing is everything," she says. "First you create a relationship with the client, and then you can start suggesting things like, 'I think you should track your inventory.'"
The internship has its challenges. Some of the women she works with don't have a way to track whether they're making profits or losses. Valdez works confidently and patiently with them. Patience is a virtue she refined as a Saint Mary's student, specifically through projects like the senior comprehensive, throughout which business majors work in groups of five and present their research to a panel of professors.
"It's totally team based. Sometimes you have ideas that clash, but you talk it out. You have to be a really good listener," she explains. Valdez learned how to get her ideas heard too. The key, she says, is to wait for the right moment. "Then you get a feeling that it's the right time and people will be receptive to you."
So, despite the straightforward logic and number-sense an accounting major implies, Valdez became adept at collaboration and developed the confidence to navigate working relationships.
Valdez doesn't see herself working for a large corporation in the future. "I just like to be my own boss," she laughs. It's her dream to build an accounting firm with her sister, Erica Valdez '07, also an accounting graduate. She's even researched the potential location, referencing an article she read recently about Austin, Texas, lauded as one of the best places to start a new business. "And with the Spanish-speaking population there, we're going to have a lot of business," says Valdez.
One thing Valdez keeps in mind is her desire to help new business owners, especially in Hispanic communities. She's sensitive to the fact that people who don't speak English can be easily taken advantage of. "I want to continue to help. No matter where I go, I will always be willing to help people."
It All Adds Up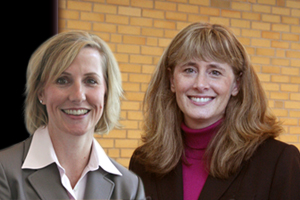 Kate Harper and Katie KummerSometimes it just pays to give back. Recently Saint Mary's alumnae Kate Murray Harper '89 and Katie Scott Kummer '89 were back on campus to receive the Outstanding Accounting Alumna Award. While the two were here they also made time to share advice and anecdotes about their career experiences with the College community. The accounting twosome visited with administrators, faculty, and students, making presentations in classes and answering questions. "I think that it's important for the students to see the success women can have after they've left Saint Mary's," says Harper. Harper is a partner in KPMG's Structure Finance Group and Kummer is an Audit Partner with Ernst & Young, LLP, both in McLean, Va.
Harper received a bachelor in business administration, and says that Saint Mary's benefited her "self-confidence and esteem," living and studying in an all women's environment. She also appreciated the Writing (W) requirement, noting that today's employees often lack sufficient writing skills. "More and more, I'm encountering people who cannot write well thought out sentences, convey ideas, prepare analysis, and write in an easy to understand, meaningful way. I don't think I appreciated back then what I think people should appreciate today, which is the value of the liberal arts education and being able to write well."
Kummer also received a bachelor in business administration, with a minor in Italian. She made the decision to come to Saint Mary's after a Saint Mary's student visited her high school and mentioned the Rome program. "That just sounded like a great experience to me and made me interested in Saint Mary's." Kummer spent a year studying in Rome and she says the experience brought to light that the world is a small place. "It helped me to appreciate that Italians have the same issues, concerns, and desires as those in the United States."
Kummer says she fell in love with accounting in her first accounting class. "It taught me a lot about working in teams and having a collaborative work ethic," says Kummer of the way the professors worked with each other and the students. "I feel like the professors in the accounting department have a great relationship. They've been together for so long and they've taught us that in working together, you'll accomplish a lot more than working in an individual environment. In a work environment, that's just so important. You only succeed if the team succeeds, really."
Harper says that professor Mary Ann Merryman brought her career experience outside the College to the classroom. "I felt I was always encouraged to learn and she made class interesting."
Both Kummer and Harper look to retired professor Claude Renshaw as a mentor. Merryman and Renshaw attended Harper's Washington, D.C., wedding, and Kummer says, "It's his [Renshaw's] dedication to his field that I appreciate. It has helped me realize the impact I have on people that work for me–and I make sure I show them a personal commitment and interest in them." All this points to what Harper says was the best part of being a student at Saint Mary's—the friendships. "You make lifelong friends and start relationships with the professors," says Harper. "The relationships here just can't be beat."