Student Profiles
Writer's Way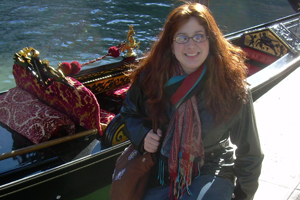 Like many Saint Mary's students senior Desiree Fischer says falling in love with the campus helped her to choose Saint Mary's as her college. But the potential for studying abroad didn't hurt either. "The Rome program also helped me to decide," says Desiree.
The English literature and English writing major studied abroad in Rome during the fall of her sophomore year. "Studying in Rome deepened my faith and helped me grow in independence as a world traveler," says Desiree.
Desiree is an apprentice writer, working with Mark Abram-Copenhaver, an associate professor in theatre. In addition to learning about the "mysterious world of theatre," she says, "I've learned a lot about the work that goes into actual publication." Desiree was also a teaching assistant for Professor Carla Johnson, something that she says will help with her future goal of teaching high school or middle school English.
Desiree's interests outside of writing include volunteering with Relay for Life, an event that has a special meaning for her. "Mom is an eight-year survivor or leukemia," says Desiree. She also worked on a Child and Parent Services (CAPS) video.
What makes Saint Mary's special for Desiree are the friends she's made and the writing program, something she says has helped her to become a much better writer. "I was looking at some of my old work the other day and I hardly recognized it," says Desiree. "I cannot believe how much I've improved."
Making Her Way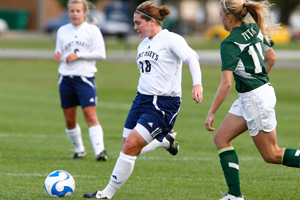 Bridget Ronayne #18 in actionMore than 16 years ago, Bridget Ronayne first stepped onto a soccer field. That decision would literally open a world of opportunity.
The English literature major from Lake Zurich, Ill., was encouraged by her high school advisor, a Saint Mary's alumna, to look at Saint Mary's. She then decided to take that critical first step onto the grounds the College the following fall and made an immediate impact on the soccer team and beyond.
Bridget has traveled to England and Scotland with the soccer team and has studied abroad in Rome for a semester while taking full advantage of her Saint Mary's experience. She is a captain on the soccer team, serves as the president of the Student-Athlete Advisory Committee (SAAC), participates in intramurals, is active in the English department, and finds time to work in the athletic department.
"Saint Mary's means professors, friends, teammates, and coaches working together because we feel as though we can improve who we are and what we want to become," Bridget says about her experience. "It has been a place that I feel at home because of the great people looking to help me become the best me."
Aspiring to become a soccer coach, one day it will undoubtedly be Bridget who will encourage some five-year-old girl to take that critical first step onto a soccer field. "Being a varsity student-athlete has helped me to learn and practice leadership skills on and off the field. It has provided me with opportunities like SAAC, volunteering, and traveling. From soccer to SAAC, I know I have gained the leadership skills to help guide people to a common goal."
Read All About It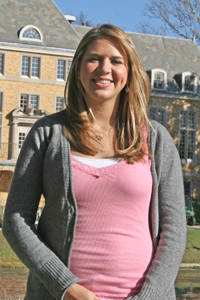 Junior and South Bend, Ind., native Alicia LeRoy didn't have to travel far from home to get the best of both worlds. The English literature and communication studies major has the benefit of seeing family whenever she wants, while living independently on campus. She's also active both in the community and on campus, participating in Dance Marathon on the Corporate Sponsorship Committee, raising money for Riley Children's Hospital in Indianapolis, Ind. "Last year I participated as a dancer and was blown away by the money raised by Saint Mary's," says Alicia. "I knew I had to play a greater part in helping those kids out [this year]."
Alicia also volunteers at the local YWCA. "Initially I was nervous about dealing with women who faced domestic and chemical abuse but I have come to experience the type of community that is built at the YWCA," says Alicia. "The clients there offer support for one another and the employees are dedicated to helping the women and children housed there."
Outside of her volunteer activities, Alicia works in the English department. Even though she has never had department chair and academic advisor Ted Billy as a professor, she counts him as a mentor. "His personality and love for literature is remarkable. He always makes me laugh and just overall seems like a great guy. I can't wait to be able to take one of his courses!"
Assistant professor Linn Vacca is another inspiration for Alicia, in working with her to improve her writing skills. "She helped me transition from high school writing to more professional papers that allowed me to think outside the box."
Alicia says her favorite class this semester is a Jane Austen fiction-to-film class. "Jane Austen is one of my favorite authors, so to be able to take a class at Saint Mary's entirely devoted to her work is a thrill," says Alicia. She was drawn to Saint Mary's because of the English program and the wide variety of classes offered. "When I combine that English knowledge with the communication major, which focuses on media, I believe that I will enter the work force well prepared."
With a poem already published, Alicia looks to work in the book publishing industry, or maybe try her hand at writing. "There is also a history of writers in my family, including Mary Shelley and Charles Perrault," says Alicia. "I like to believe that my love for literature and knack for writing is in my blood."
On Top of Her Game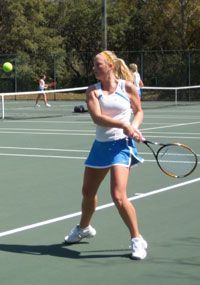 Jillian Hurley's love of tennis began at an early age. She has been playing since she was 11 years-old. The sport has taught Jillian to push herself both mentally and physically, and it's shown her that with hard work, she can accomplish anything. That determination to succeed makes Jillian a star player not only on the Belles varsity tennis team, but in the Saint Mary's community too. Here, the English literature major excels at both tennis and academics. "Saint Mary's seemed like the perfect place to balance the two," says the South Dakota native.

In addition to her major, Jillian is also working toward minors in secondary education and women's studies. After graduating she plans to become a high school English teacher. She has always wanted to teach for the simple reason that she wants to share her passion for literature and writing with others. "The faculty and classes have further increased my desire to teach, while also ensuring that I am properly prepared when I do go out into the real world to educate others."

As in tennis, Jillian strives to perform at the top of her game in the classroom. She wants to make a difference in kids' lives and says her experiences here have empowered her to do that. "I know that in my future career and in life, I will be able to impact others because of the confidence and knowledge I gain throughout my time at Saint Mary's," she says.

Jillian enjoys the small and personal environment that the College provides its students. The all-women's environment "allows more opportunities for personal growth as a woman and as a student," she says. One of those opportunities was a chance to serve on the Junior Class Board. As part of the board, Jillian helps plan activities for the junior class such as Junior Mom's Weekend and the Junior Class Formal.

But nothing compares to the rush that follows a well-played match. Jillian is a force to be reckoned with on the court.  She says, "I love knowing I not only won a match for myself, but that I also won for my Saint Mary's team."

—Lauren DeBruce '11