Philosophy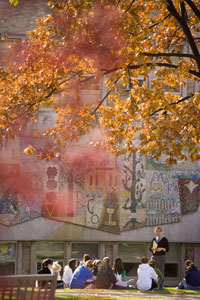 The philosophy program introduces you to a broad range of ideas and provides opportunities to pursue your own individual philosophical concerns in depth. Philosophy is a tool for examining your basic beliefs, confronting the challenges of others' beliefs, and arriving at independent decisions. At Saint Mary's, philosophy majors develop a foundation in the history of philosophy and an acquaintance with contemporary research.
"In a philosophy classroom at Saint Mary's there exists an exchange of ideas that can reaffirm intuitions, challenge the ego, and make you think harder than you ever thought was possible. Majoring in philosophy was the best decision I made at Saint Mary's." —Alexandria Zakrzewski '08
The philosophy major is excellent preparation for postgraduate study in any field in which abstract theoretical thought is essential. Great thinkers such as Socrates, Descartes, and Kant, along with subjects such as social justice, ethics, morality, and the human condition are explored in depth.
Studying philosophy develops students' ability to think critically about complex and varied topics; to argue persuasively and logically; to ask the right questions when faced with new information or situations; to communicate ideas effectively, both in speech and in writing; and to present knowledge and arguments in an organized fashion. These skills are useful in any number of careers, even if you might pursue several different careers over the course of your life.
Writing in the Major
At the end of your junior year, to fulfill an advanced writing proficiency requirement in philosophy, you must submit a portfolio for evaluation. The Advanced W must be awarded at this time if you are to pursue the thesis option for your senior comprehensive. If you are not awarded the Advanced W on the basis of your portfolio, you must pursue the exam option. Successful completion of the comprehensive exam in the spring of your senior year also constitutes successful completion of the Advanced W.
Senior Comprehensive Examination
When you pursue your senior comprehensive in philosophy you may either write a thesis or take an exam. If you pursue the thesis option you will receive three credit hours for an independent study and are eligible for honors. The exam consists of a two hour examination in the history of philosophy and a short paper on a topic assigned on the basis of elective work.
Careers
Philosophy majors from Saint Mary's College have gone on to careers in law, teaching, social work, business, writing, pastoral work, art, and many other fields. Saint Mary's philosophy graduates have also gone on to medical school and to graduate study in a wide variety of subjects.