Philosophy Major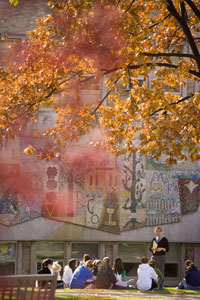 Philosophy is a tool for examining your basic beliefs, confronting the challenges of others' beliefs, and arriving at independent decisions. Develop a foundation in the history of philosophy and an acquaintance with contemporary research. 
The Experience
Explore a broad range of ideas and pursue your own individual philosophical concerns. Study great thinkers such as Socrates, Descartes, and Kant, along with subjects such as social justice, ethics, morality, and the human condition. 
The Requirements
Develop your ability to think critically about complex and varied topics. Learn how to argue persuasively and logically, and how to ask the right questions when faced with new information or situations. Become skilled in communicating ideas effectively, and presenting knowledge and arguments in an organized fashion. 
The Writing
You'll submit a portfolio for evaluation to fulfill the advanced writing proficiency requirement. From there you choose between writing a thesis on a subject of your choice, or taking an exam to complete your senior comprehensive requirement.
The Results
Excellent preparation for postgraduate study in any field in which abstract theoretical thought is essential, philosophy alumnae have careers in law, teaching, social work, business, writing, pastoral work, art, and many other fields. Graduates have also gone on to medical school.