Faculty Profiles
The Philosophy of Life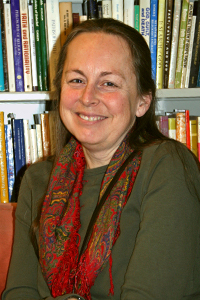 Philosophy professor Patricia Sayre didn't take a direct path to a career in philosophy. At one time in high school she thought she wanted to be an artist. Then she decided she wanted to be, "the sort of person who wrote the introductory essays in editions of literary works." But all it took was the first day in her philosophy class in college to know that philosophy was the discipline for her.
Sayre has been at Saint Mary's in the philosophy department since 1987. She says she came to Saint Mary's because she "wanted to teach in an environment where religious questions are taken seriously without the answers being taken for granted..." As a professor her goal is to "use philosophical material and training in philosophical skills of analysis, argumentation, thoughtfulness, etc., to help students develop their souls and to become capable of living fully human, genuinely meaningful lives. In short, I would like them to become wise, or at least lovers of wisdom who long to be wise and to 'see the world aright' (Wittgenstein)."
In her time at Saint Mary's Sayre can't list "one best experience;" instead she has many. "Every time a student exceeds her own expectations by producing a beautiful 'senior comp', or tightly written paper, or powerfully articulated argument, or gorgeous sentence, I have another 'best' experience."
Sayre has worked on two Student Independent Study and Research (SISTAR) grants and says the students she worked with have gone on to do graduate level work in philosophy. Not limited to teaching, Sayre is also a student, working on a BFA in art at Saint Mary's. "This work in art has impacted and enhanced my teaching in innumerable ways," says Sayre.
Sayre's advice to students considering a major is simple. "Major in what you love and have a passion for studying and everything else will fall in place." When it comes to the philosophy major, she notes how it can prepare one for careers in fields such as law, business, and social service, where "the ability to think clearly, problem solve, and communicate well is critical."
Sayre suggests that studying the discipline of philosophy can take one beyond college and careers—that it has implications for life. She says, "Philosophy majors, above all else, go on to lead lives that are not simply lived on auto-pilot, but that are thoughtfully engaged and mean something. And, in the end, isn't that all that really matters?"