Three Professors and Student Recognized at Honors Convocation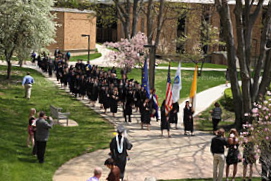 A procession of honors graduates and faculty heads
to O'Laughlin Auditorium for Honors Convocation.Contact:
Gwen O'Brien
Director of Media Relations
Saint Mary's College
(574) 284-4579
May 8, 2012 (Notre Dame, Ind.)—Three Saint Mary's College professors and one student were pleasantly surprised at the Honors Convocation on Sunday, May 6, when they were announced as the recipients of three annual awards of distinction: the Spes Unica Award, the Maria Pieta Award, and the Saint Catherine Medal. For more on the recipients and their awards, please click on their names.
Joseph Incandela, associate dean of faculty and professor of religious studies, received the Spes Unica Award. The Spes Unica Award recognizes a faculty member's eminent service to Saint Mary's College. Contributions can be in the area of teaching, scholarship/ creative activity and/or service. Incandela is honored for the pivotal role he has played in the development, adoption, and implementation of the Sophia Program in Liberal Learning, the College's new general education program. The first phase of the Sophia Program will be implemented this fall with the incoming Class of 2016.
Susan Vance, professor of business law and accounting and founder of the Women's Entrepreneurship Initiative (WEI), was also honored with the Spes Unica Award. For more than 30 years departmental colleagues, the College, the community, and students have reaped the benefits of Vance's nonstop energy and penchant to get things done. The professor, who retires this spring, leaves a lasting legacy at Saint Mary's including WEI and a financial literacy course she created that will be offered for credit as part of the new general education program.
William Svelmoe, professor and chair of the Department of History, was recognized with the Maria Pieta Award at Honors Convocation on Sunday, May 6. The Maria Pieta Award was established in 1976 in honor of Sister Maria Pieta, CSC, who was a teacher and an administrator at Saint Mary's College. The award recognizes the quality of teaching in courses for freshmen and sophomores. Svelmoe is honored as a gifted teacher who engages students in critical issues above and beyond what they learn in their readings.
Carla Leal '13 of Brownsville, Texas received the Saint Catherine Medal. Each year, Saint Mary's College awards the Saint Catherine Medal to a sophomore or junior who has demonstrated high standards of personal excellence and scholarship and has contributed to the College community in the spirit of Christian leadership. The award commemorates Saint Catherine of Alexandria, the patron saint of scholars and especially of women scholars. Leal, a psychology major, is recognized as a leader, mentor, tutor, and facilitator. In her three years at Saint Mary's, she has given an astounding 1,200 hours of her time to the South Bend community in service.
About Saint Mary's College: Saint Mary's College, Notre Dame, Ind., is a four-year, Catholic, women's institution offering five bachelor's degrees and more than 30 major areas of study. Saint Mary's College has six nationally accredited academic programs: social work, art, music, teacher education, chemistry and nursing. Saint Mary's College ranks among the top 100 "Best National Liberal Arts Colleges" for 2012 published by U.S.News and World Report. Founded in 1844, Saint Mary's is a pioneer in the education of women, and is sponsored by the Sisters of the Holy Cross.