Just For Parents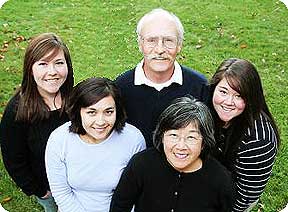 This is an important stage in your life as a parent. You're excited about the great opportunities ahead for your daughter - you want the best for her and you want her to have every possibility for a happy and successful future. Saint Mary's College provides an excellent education in a safe, supportive environment. College is an investment; at Saint Mary's you can expect an outstanding, affordable education for your daughter.
Nationally Recognized
Saint Mary's College ranks among the top 100 Best National Liberal Arts Colleges for 2015 published by U.S. News. Our six nationally accredited programs and strong science and mathematics departments graduate students who are accepted into well-known medical programs and graduate schools, such as Boston College, Johns Hopkins University, and Carnegie-Mellon.
An Enriching Community
Our faculty focus on students inside and outside the classroom. Small classes, averaging only 16 students, allow for a conversational, give-and-take approach between professors and students. Professors will mentor her; classmates will motivate her. Ninety-three percent of our graduates earn their degree in four years.*
Your daughter will make lifelong friends, grow spiritually - no matter what her faith tradition, she will explore her interests, and she will have the opportunity to get involved whether her interests are athletics, service, or student government. The University of Notre Dame, just across the street, opens its resources—including sports events, classes, and social activities—to Saint Mary's students.
Preparation for success
Saint Mary's shapes confident women. Preparation for the "real world" comes from internships, research opporutnities, and study abroad. A rigorous curriculum develops skills for a demanding job market. Saint Mary's mission is to educate women; preparing them for post-graduate success whether it's that first job, graduate school, or service work. A 2012 survey of recent Saint Mary's graduates showed 96 percent were employed, enrolled in or completed degree/certificate programs, or performing service work.
Parent Involvement
We're here to support your daughter and the entire family. You, too, become a part of the Saint Mary's community, a community that is committed to your daughter's overall well-being.
*Helping students graduate on time is business as usual at Saint Mary's, which is instituting a four-year graduation promise for first-year students enrolling in the 2013-14 academic year.