Just For Parents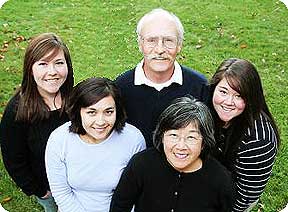 This is an important stage in your life as a parent. You're excited about the great opportunities ahead for your daughter, yet her absence from home will affect the entire family. Saint Mary's College provides an excellent education in a safe, supportive environment. Your daughter will grow intellectually, but also personally and spiritually. She'll become a strong, confident woman ready to make a difference in her community.
Nationally Recognized
Saint Mary's College ranks 76 among the 248 "Best National Liberal Arts Colleges" for 2014 published by U.S. News and World Report. Our six nationally accredited programs and strong science and mathematics departments graduate students who are accepted into well-known medical programs and graduate schools, such as Boston College, Johns Hopkins University, and Carnegie-Mellon.
Student-Centered
Our faculty focus on students inside and outside the classroom. Teaching is their first priority. Our small classes, averaging only 16 students, allow for a conversational, give-and-take approach between professors and students. Ninety-three percent of our graduates earn their degree in four years.*
Empowering
Personal discovery and growth are as much a part of the college experience as intellectual pursuits. Our long-time experience as an all-women's college puts Saint Mary's on the leading edge for challenging our students and offering them leadership opportunities through campus activities, community involvement, study abroad, and internships with Fortune 500 companies. Saint Mary's mission is to educate women; preparing them for post-graduate success whether it's that first job, graduate school, or service work.
A Dynamic Community
Our beautiful, serene campus is home to more than 80 percent of Saint Mary's students. Young women develop lifelong friends in this close-knit environment and find many opportunities for social, academic, and spiritual involvement. The University of Notre Dame, just across the street, opens its resources—including sports events, classes, and social activities—to Saint Mary's students.
Making a Difference
Saint Mary's professors discuss faith, values, and ethics in class, then students live out those values through service opportunities. More than 50 percent of Saint Mary's students volunteer in the local community, such as working in the homeless shelter or tutoring elementary schoolchildren.
Parent Involvement
We're not just here to support your student—we're here for the entire family.
*Helping students graduate on time is business as usual at Saint Mary's, which is instituting a four-year graduation promise for first-year students enrolling in the 2013-14 academic year.