Department of Biology
What kind of biologist will you be?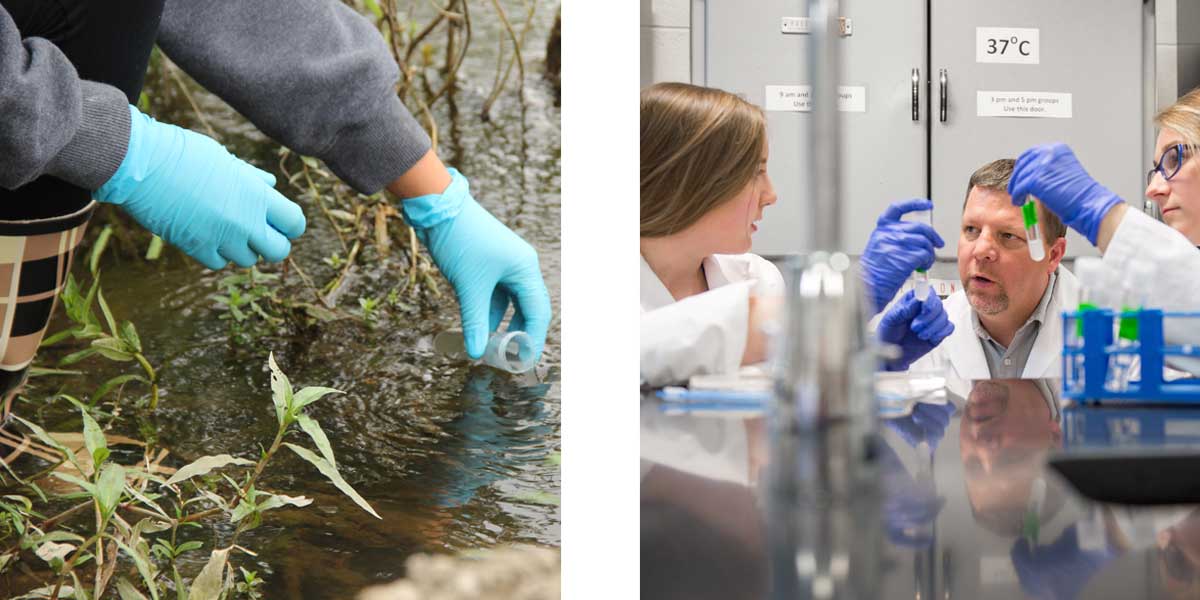 Do you see yourself in a white lab coat isolating pathogenic bacteria? Or hiking through the field collecting specimens? Fulfill either passion at Saint Mary's College. Thanks to the breadth of opportunities in our biology department, you'll explore everything from cancer cells to marine biology in a collaborative environment — and emerge a scientist.
100%

of biology students conduct original research

59%

of biology students study abroad

93%

of recent biology graduates are employed or in graduate school
"The biology faculty have a huge impact on student success. Thanks to their support, I'm headed to medical school this fall."
—Taylor TenBrock '16
Your voice matters
Here, your voice will be heard and your professors will know your name. You'll form meaningful working relationships with faculty and fellow students in an environment in which students support each other. You'll be encouraged to explore problems from new perspectives and take on challenges you didn't know you could handle. And you'll gain the confidence to speak up and become the scientist you were meant to be.
Put your unique stamp on original research
You'll conduct original research at a level often reserved for graduate students. And you won't just collect data for someone else's study; faculty will develop you to the point that you're confident enough to embark on your own research projects. Choose your area of interest and form your own hypotheses, and then present your work. Some students present at regional or national conferences, and publish in scientific journals. We also offer grant-funded summer research opportunities.
Study abroad while pursuing your passion for biology
Immerse yourself in another culture. Saint Mary's offers a number of biology-focused study abroad opportunities, so you can spend your summer witnessing 500-pound tortoises on the Galapagos Islands or explore marine life on spring break in Belize. We also offer semester-long biology courses in South Africa and Australia, or you can test your intercultural competence with a language immersion program in Spain, Argentina, France, or Austria. Go off the grid with a semester in China, Italy, Ireland, and more.
"Going abroad put my dreams in perspective and I realized going into the medical profession is much more than helping people who are sick."
—Cassie Libbing '17
Learn in state-of-the-art facilities
As a biology student, you'll enjoy access to fully equipped laboratory space with resources dedicated to helping you get the most out of your learning. Explore the flora and fauna along the St. Joseph River in our 100-acre nature area adjacent to campus, utilize the greenhouse, or collaborate in our new student research suite and attached computer facility.