What does research in the humanities look like? Let Humanistic Studies show you. As a HUST major, you have the chance to experience the thrill of discovery and pursue your curiosity. Under the expert guidance of faculty mentors, you will embark on exciting, self-designed research projects. HUST even offers a three-credit course called Humanities Works (HUST 290) to show you the real-world applications of your research skills.
Present your research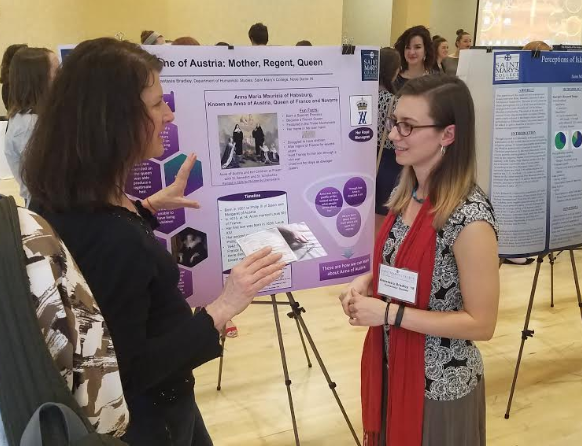 In her senior seminar, Anastasia Bradley '18 wrote a paper on "Anne of Austria: Mother, Regent, Queen" and later turned it into a poster presentation at the college-wide research Symposium. 
Katie Piscione '18 analyzed "Social Status and Slavery in Aphra Behn's Oroonoko" for her colloquium seminar and likewise won a competition to present it at the annual Saint Mary's Symposium.
In 2018-2019, HUST majors will conduct a year-long interdisciplinary research project showing how characters in classical literature were repurposed by medieval and modern authors. Several students will be chosen to present their projects along with faculty at the world's largest medieval studies conference in a session titled: "Making the Past Modern: Displacement and Transformation in Medieval and Modern Texts."
Get Hands-on Experience
Does your passion for scholarship carry you beyond campus? Not a problem. Humanistic Studies can help fund your independent research and travel abroad to archives, libraries, and museums. Contact the department chair for more details!