Symposium 2011
14th Annual Symposium on St. Thomas Aquinas
Tuesday, January 25, 2011
7:00 p.m.
Student Center Lounge
Symposium Speaker:  Father Robert Barron
"Thomas Aquinas and Why the Atheists are Right"
About Father Barron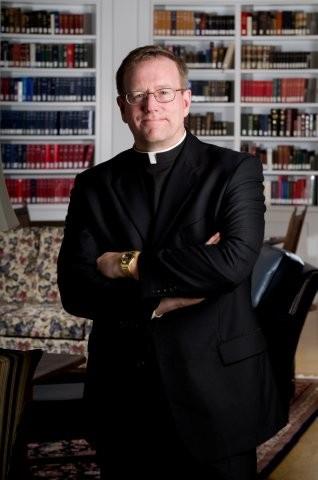 Father Robert Barron is a sought-after speaker on the spiritual life-from prestigious universities to YouTube to national conferences and private retreats. The prominent theologian and podcasting priest is one of the world's great and most innovative teachers of Catholicism. His global media ministry called Word on Fire has a simple but revolutionary mission - to evangelize the culture. 
Fr. Barron is the Francis Cardinal George Chair of Faith and Culture at University of St. Mary of the Lake/Mundelein Seminary in Mundelein, Illinois. Ordained an Archdiocesan priest in Chicago in 1986, he also has published numerous books, essays and DVDs.
Fr. Barron lectures extensively in the United States and abroad, including the Pontifical North American College at the Vatican and the Pontifical University of St. Thomas Aquinas in Rome. He also is a passionate student of art, architecture, music and history. Fr. Barron has been called "one of the Archdiocese's greatest gifts" (Open Book, Amy Welborn).  To learn more about Fr. Barron, please visit his website: http://www.wordonfire.org
About His Talk
The "new atheists" have emerged as strident critics of religion. I have found that, more often than not I agree with them, for the God they deny is one that I would deny as well.  I want to explore this curious situation with the help of St. Thomas Aquinas.  I will look especially at Thomas' treatment of the non-competitive relationship between God and the world.
For further information, please contact Barb Westra, Staff Assistant, Religious Studies, 574-284-4534.
 This Symposium is sponsored by the Joyce McMahon Hank Aquinas Chair in Catholic Theology, held by Dr. Joseph Incandela