Student Awarded National Science Foundation Graduate Research Fellowship
April 12, 2017 (Notre Dame, Ind.) — Saint Mary's College is pleased to announce that Brianna Kozemzak '17, a computing and applied mathematics major with a minor in chemistry, was awarded a National Science Foundation (NSF) Graduate Research Fellowship. This fellowship is given to individuals based on their intellectual merit and broader impact in the community.
Kozemzak, of Eagan, MN, is the second Saint Mary's student to be awarded this fellowship, which will cover up to $12,000 in tuition for graduate school and a stipend for living expenses. She is still deciding which school she wants to attend, but she'll be working toward a PhD in bioinformatics.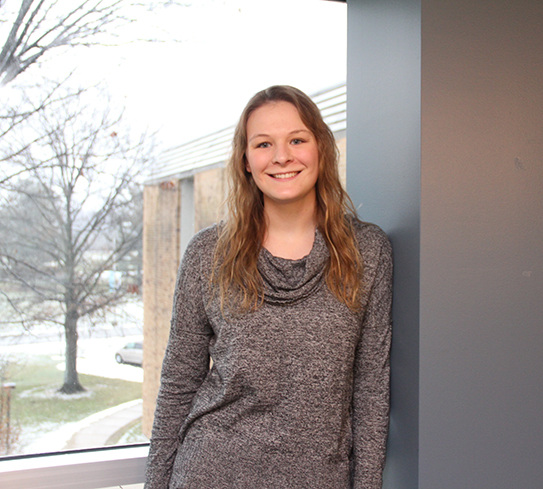 "I'm so happy to be able to represent Saint Mary's. We're a small liberal arts college that isn't typically known for its research, but it's cool that students here are still able to compete for fellowships with students coming from big research universities. Here, we're learning how to learn, which is an invaluable skills in research," Kozemzak said.
Although Kozemzak has participated in two research opportunities as an undergraduate student, she decided to pursue a new project for her proposal. Her senior comprehensive project allowed her to find an interest in analyzing DNA sequencing data. Her proposal for the fellowship, "Detecting Copy Number Variations from Third-Generation Sequencing Data," aims to provide a new approach for identifying genetic factors that might contribute to complex diseases, such as cancer.
Kozemzak is passionate about the way math can be applied to solve many problems. The summer after her sophomore year, she worked with professor Elizabeth Wolf as part of a SISTAR grant. The duo developed a mathematical model for mumps outbreaks in small communities. She also worked with Dr. Pedro Mendes at UConn Health last summer, where she created a model for how copper moves through bacterial cells.
The NSF Graduate Research Fellowship Program (GRFP) is a critical program in NSF's overall strategy to develop the globally engaged workforce necessary to ensure the nation's leadership in advancing science and engineering research and innovation. The program recognizes and supports outstanding graduate students who are pursuing research-based masters and doctoral degrees in science and engineering. The GRFP provides three years of support for the graduate education of individuals who have demonstrated their potential for significant achievements in science and engineering.
About Saint Mary's College: Saint Mary's College, Notre Dame, Ind., is a four-year, Catholic, residential, women's liberal arts college offering five bachelor's degrees and more than 30 major areas of study, such as business, nursing, art, chemistry, and social work. Saint Mary's College also offers two graduate degrees: a Master of Science and a Doctorate. All programs that fall under these degrees are co-educational and include a Master of Science in Data Science, a Master of Science in Speech Language Pathology, and a Doctorate of Nursing Practice. Founded in 1844 by the Sisters of the Holy Cross, Saint Mary's College seeks, according to its mission statement, to educate students, develop their talents, and prepare them to make a difference in the world. Follow Saint Mary's College on Twitter @saintmarys and @saintmarysnews.
Contact for News Media: Haleigh Ehmsen, Media Relations Associate, Saint Mary's College, hehmsen@saintmarys.edu (574) 284-5343