Visit Campus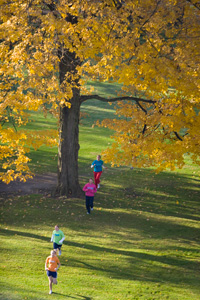 The best way to learn about Saint Mary's College is to drive down the Avenue and walk among our students. You'll discover 100 acres of spacious lawns, historic buildings, and technologically advanced classrooms on our campus located in suburban Notre Dame, Indiana.
"The campus is beautiful. Everyone was smiling and saying 'Hi' when I visited. It was very welcoming. I knew this is where I wanted to be."
—Angeline Johnson, Valparaiso, Indiana
But more importantly, you'll find a vibrant community of people who, like you, are curious, academically ambitious, and eager to learn and support one another. We'll tailor your visit to your interests, so here are some things you might include in your scheduled visit:
Attend classes, or meet individually with a professor
Take a guided tour
Meet with your admission counselor
Talk with a coach, or attend a sporting event
Connect with campus ministry
Spend the night in a residence hall (limited to high school seniors)
Eat lunch in the dining hall
Shop at the bookstore
Virtual Tour
A little taste of what awaits
you on our campus.
You can check out a sample schedule of an individual visit. Or, if you'd like to explore our campus with other curious students, consider Fall or Spring Day on Campus or Senior Preview Days, which are daylong events filled with activities for you and your family.

If you are an accepted student, consider attending "Meet Me at The Avenue" in March, a special opportunity designed just for you.
We invite you to experience the empowering atmosphere of Saint Mary's College. Contact our campus visit coordinator at 800-551-7621 or campusvisit@saintmarys.edu to schedule an appointment.