About the Center
Our director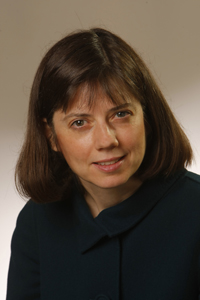 Elizabeth Groppe
Elizabeth Groppe is Interim Director of the Center for Spirituality and Associate Professor of Theology at Xavier University in Cincinnati, Ohio. She is the author of Yves Congar's Theology of the Holy Spirit (Oxford, 2004) and Eating and Drinking (Fortress, 2011). Her articles in theological journals and anthologies address trinitarian theology, ecological theology, ecclesiology, Christian-Jewish relations, and other topics. The daughter of a Saint Mary's alumna, she is married and has one son.
Our mission
The Center for Spirituality (CFS) is the place where the mission of Saint Mary's College can be advanced with particular attention to spirituality considered as both academic discipline and way of life. Founded in 1984, CFS was the first center of its kind established in the United States.
An emphasis on the multi-faceted nature of spirituality includes attending to the social dimensions of spirituality. Incorporating the voices of persons who are poor, oppressed or otherwise marginalized by society is a key component of the Center's mission. CFS works closely with other units of the College, to co-sponsor programs that engage questions of justice and peace.
CFS also engages issues at the interface of faith and reason. For example, scholars from here and abroad convene in various formats to engage the community in discussion of critical issues related to spirituality. Other projects, such as the Catholic Common Ground Initiative, invite the college community to discuss issues of concern as they arise. CFS is a reminder to the Saint Mary's College community and others that the life of the mind and the life of the spirit are intimately connected and mutually enriching.
The Center is a unit in Saint Mary's Division for Mission and works closely with many other units and departments of the College community, addressing contemporary issues of mutual concern. As one of the three Centers of Distinction at Saint Mary's College, CFS partners with the Center for Academic Innovation and the Center for Women's Intercultural Leadership on various projects.
Our Staff
Director: Elizabeth Groppe, egroppe@saintmarys.edu
Associate Director: Michelle Egan, mlegan@saintmarys.edu
Administrative Assistant: Kathy Guthrie, kguthrie@saintmarys.edu