Madeleva Lecture Series
35th Madeleva Lecture
Dining at the Table of Holy Wisdom: Global Hungers and Feminist Biblical Interpretation
Barbara E. Reid, OP, Ph.D.
President, Catholic Theological Union
Carroll Stuhlmueller, C.P. Distinguished Professor of New Testament Studies
April 15, 2021, 7:00 pm EST via Zoom
In the book of Proverbs, Woman Wisdom invites all who want to learn her wise ways: "Come, eat of my bread and drink of the wine I have mixed.  Lay aside immaturity and live and walk in the way of insight." Like Wisdom's feast, feminist interpretation of the Scriptures offers rich fare for addressing today's global hungers, particularly those of women and other disadvantaged persons who long for the full flourishing of all creation.  This presentation will explore texts in the Gospel of Luke in which women participate in, produce, prepare, and serve satisfying feasts (both literal and metaphorical) including: Mary, the mother of Jesus, Elizabeth, Anna, Simon's mother-in-law, Mary and Martha, Mary Magdalene, Joanna, Susanna, and the other Galilean women.
Free and open to the public. To register to receive the Zoom link, please email cfs@saintmarys.edu.
34th Madeleva Lecture, 2019 
Theologizing in an Insurgent Key, Subverting Violence Against Women
Nancy Pineda-Madrid, Ph.D.
Visiting Professor and T. Marie Chilton Chair of Catholic Theology
Loyola Marymount University, Los Angeles
Dr. Pineda-Madrid received her doctorate in Systematic and Philosophical Theology from the Graduate Theological Union and an M.Div from Seattle University. She works at the intersection of systematic theology and practical theology. Pineda-Madrid has published numerous books, articles, and papers. Her latest book is The Holy Spirit: Setting the World on Fire (co-edited with Richard Lennan, Paulist Press, 2017). She is a widely recognized and well-respected speaker both nationally and internationally.
2018 Lecturer, Mercy Amba Oduyoye
2017 Madeleva Lecturer, Ilia Delio, OSF
 
2016 Madeleva Lecturer, Marianne Farina, CSC
2015 Madeleva Lecture, Voices of Young Catholic Women panel
About the Madeleva Lecture Series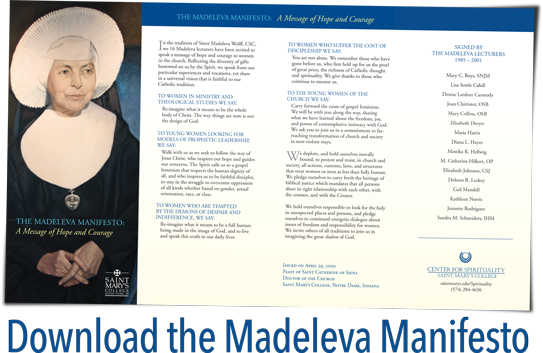 The Madeleva Lecture is named for Sister Madeleva Wolff, CSC, who served as President of the College from 1934-1961.  Her many accomplishments include the establishment in 1943 of the School of Sacred Theology, the first institution in the United States to provide graduate education in theology to women.  Although the school closed in 1969, the lecture series named in her honor has for over three decades given voice to women scholars in the discipline of theology.  In 2000, the sixteen past Madeleva lecturers created the Madeleva Manifesto, a document of hope and courage to women in the church. The document is just as timely today as when it was originally written.
Past Madeleva Lecturers 
Monika K. Hellwig, 1985
Sandra M. Schneiders, IHM, 1986
Mary Collins, OSB, 1987
Maria Harris, 1988
Elizabeth Dreyer, 1989
Joan Chittister, OSB, 1990
Dolores Leckey, 1991
Lisa Sowle Cahill, 1992
Elizabeth A. Johnson, CSJ, 1993
Gail Porter Mandell, 1994
Diana L. Hayes, 1995
Jeanette Rodriguez, 1996
Mary C. Boys, SNJM, 1997
Kathleen Norris, 1998
Denise Lardner Carmody, 1999
Sandra M. Schneiders, IHM, 2000
Mary Catherine Hilkert, OP, 2001
Margaret Farley, RSM, 2002
Sidney Callahan, 2003
Mary Ann Hinsdale, IHM, 2004
Past Madeleva Lecturers on the 40th Anniversary of Vatican II, 2005
Susan A. Ross, 2006
M. Shawn Copeland, 2007
Barbara Fiand, SNDdeN, 2008
Anne E. Patrick, SNJM, 2009
Wendy M. Wright, 2010
Kwok Pui-Lan, 2011
Kathleen Hughes, RSCJ, 2012
Catherine E. Clifford, 2013
Christine Firer Hinze, 2014
Voices of Young Catholic Women, A Panel Discussion, 2015
Marianne Farina, CSC, 2016
Ilia Delio, OSF, 2017
Mercy Amba Oduyoye, 2018
Nancy Pineda-Madrid, 2019