Madeleva Lecture Series
32nd Madeleva Lecture 
A Hunger for Wholeness: Soul, Space and Transcendence
While technology may fill a void for many in modern life, it cannot fulfill our deepest longing for wholeness.  During her lecture, Sr. Ilia explored how moving God to the heart of our lives could take us beyond our limited selves towards a new unity in love.
Ilia Delio, OSF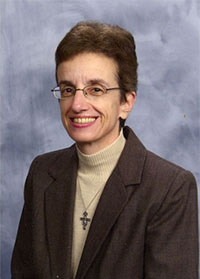 Ilia Delio, OSF holds the Josephine C. Connelly Endowed Chair in Theology at Villanova University. She is the author of seventeen books and lectures nationally and internationally in the area of Science and Religion, with particular interests in evolution, ecology and artificial intelligence. More information about Ilia may be found on her website.
April 18, 2017: Read her most recent reflection published by the National Catholic Reporter. 
About the Madeleva Lecture Series
The Madeleva Lecture is named for Sister Madeleva Wolff, CSC, who served as President of the College from 1934-1961.  Her many accomplishments include the establishment in 1943 of the School of Sacred Theology, the first institution in the United States to provide graduate education in theology to women.  Although the school closed in 1971, the lecture series named in her honor has for over three decades given voice to women scholars in the discipline of theology.  In 2000, the sixteen past Madeleva lecturers created the Madeleva Manifesto, a document of hope and courage to women in the church. The document is just as timely today as when it was originally written.
List of past Madeleva lecturers (1985-present)
Recent publications by Madeleva lecturers
Joan Chittister, OSB (1990)
Between the Dark and the Daylight: Embracing the Contradictions of Life (Image, 2015)
Diana L. Hayes (1995)
No Crystal Stair: Womanist Spirituality (Orbis, 2016)
Margaret Farley, RSM (2002)
Changing the Questions: Explorations in Christian Ethics (Orbis, 2015)
Barbara Fiand, SNDdeN (2008)
Come, Drink Deep of Living Waters: Faith Seeking Understanding in the 21st Century (Crossroad, 2016)
Kwok Pui-Lan (2011)
Postcolonial Practice of Ministry: Leadership, Liturgy, and Interfaith Engagement (Lexington, 2016)