Madeleva Lecture Series
31st Madeleva Lecture 
April 14, 2016
7:30 p.m. Carroll Auditorium, Madeleva Hall
Admission is free 
Sacred Conversations and the Evolution of Dialogue
Marianne Farina, CSC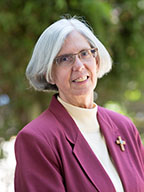 Professor of Philosophy and Theology, Dominican School of Philosophy and Theology
Graduate Theological Union 
On the occasion of the 175th anniversary of the founding of the Women of Holy Cross, Dr. Farina will address the importance of dialogue in the execution of the mission of the sisters and in Holy Cross education with particular attention to Catholic-Muslim dialogue.
Response:
Asma Afsaruddin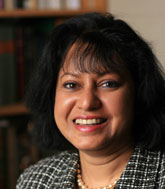 Professor, Department of Near Eastern Languages and Cultures
Indiana University
Eva Mary Hooker, CSC will read original poetry composed in honor of the 175th anniversary of the founding of the Women of Holy Cross. She is a writer-in-residence and professor of English at Saint Mary's College. 
About the Madeleva Lecture Series
The Madeleva Lecture is named for Sister Madeleva Wolff, CSC, who served as President of the College from 1934-1961.  Her many accomplishments include the establishment in 1943 of the School of Sacred Theology, the first institution in the United States to provide graduate education in theology to women.  Although the school closed in 1971, the lecture series named in her honor has for over three decades given voice to women scholars in the discipline of theology.  In 2000, the sixteen past Madeleva lecturers created the Madeleva Manifesto, a document of hope and courage to women in the church. The document is just as timely today as when it was originally written.
For a list of past Madeleva lecturers (1985-present), click on the file listed at the bottom of this page.  To order a copy of a past lecture, visit the website for Paulist Press.
Click here for a Saint Mary's campus map and parking directions.