Paper Analytical Devices (PADs) Project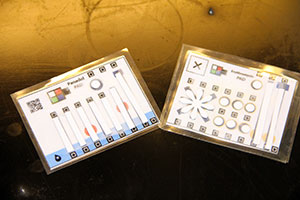 The PADs are the size of a business card and can screen
whether certain drugs are low quality or counterfeit.
About PADs
The PADs project is a collaborative multidisciplinary research effort between Saint Mary's College and the University of Notre Dame. It consists of mostly undergraduate researchers along with some graduate students, professors and other professionals at the two schools. The goal of the project is to develop simple inexpensive chemistry-based tests that can be used by most anyone, anywhere to help determine if a pharmaceutical is real or fake.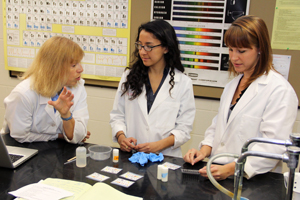 Dr. Toni Barstis, Diana Vega Pantoja '13, and Elizabeth
Bajema '11 discuss the PADs project.
The Problem: Counterfeit Pharmaceuticals
The project began with the serious and growing problem of counterfeit pharmaceuticals. This issue is prominent in developing nations where lack of market regulation allows counterfeiters to slip their products in among authentic drugs. The World Health Organization reports that up to 50% of drugs available in such areas may be counterfeit or substandard.
A Solution: PADs
The purpose of the project is to decrease counterfeiting and save lives by developing a series of PADs that contain a library of colorimetric chemical tests that can help determine the content of a pharmaceutical sample.
Meet Saint Mary's College chemistry professor Toni Barstis, director of the PADs project.
Meet Mary Bevilacqua '12, whose work on PADs led to a patent filing.
Read about the two patents pending.
Donate to support the ongoing work of the PADs project. To ensure your donation goes to the PADs project, in the Gift Information section, select "other" and type in "PADs project".