Athletic Camps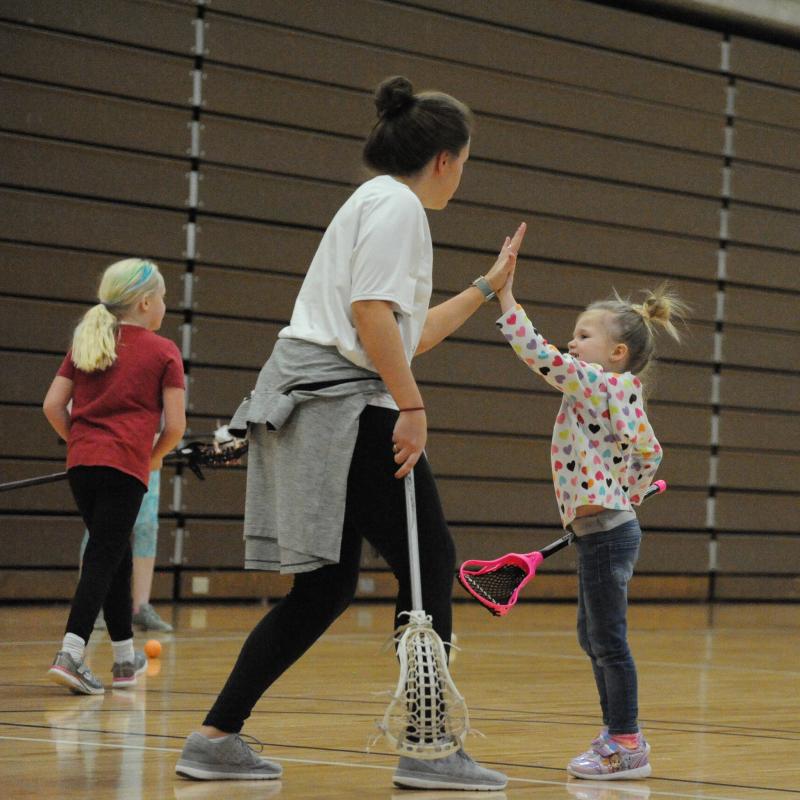 Empowering the Next Generation through Sports
From your aspiring young athlete to your experienced high school all-stars, Saint Mary's provides a variety of athletics camps that help inspire the next generation of strong women.
Our Sports Exploration Day Camp is tailored to elementary school-aged girls who will get firsthand experience in each of our eight varsity sports. Our volleyball, tennis, and lacrosse camps help middle school and high school girls improve their skills through either day or overnight camp options. All of our camps are led by varsity coaches, college student-athletes, and experienced instructors.
Stay tuned for our summer 2022 camp dates!
Learn more about each camp below!
2021 Camps
Volleyball Camp | For girls entering grades 5-12
Day camp (8:30 AM - 8 PM): $275
Volleyball campers will be taught the basics of serving, passing, setting, and attacking while those ready for more advanced skills will focus on fine tuning the basics. All campers will be appropriately challenged for their skill level by our highly qualified staff made up of college coaches and collegiate student-athletes. Participation in scrimmages will help further develop the skills taught throughout the week.
Required equipment for you to provide – indoor gym shoes, knee pads
Tennis Camp | For girls entering grades 8-12
Day camp (8:30 AM - 8 PM): $275
Tennis campers will develop and refine their footwork, ground strokes, serves, service returns and volleys. Doubles and singles strategies will be taught during the week as campers will match up against each other in contests, matches, and tournament competitions. This camp is intended for players with some tennis experience.
Required equipment for you to provide – racquet, tennis shoes, indoor gym shoes
Sports Exploration Camp | For girls entering grades 1-6
Day camp (9:00 AM - 12 PM): $200
Campers who participate in the Sports Exploration Camp will have the opportunity to participate in each of the eight varsity sports offered at Saint Mary's College--cross country, golf, lacrosse, basketball, softball, volleyball, soccer, and tennis. Modeled after our National Girls and Women in Sports Day Clinic, participants will spend 45 minutes to an hour and a half in two sports each day of the four-day camp. The goal of the week is for campers to learn introductory skills while having fun and experiencing the many valuable life skills gained through participating in sports.
Required equipment for you to provide – indoor gym shoes
Questions?
We know how important choosing a summer camp is for you and your daughter. Because of this we are happy to answer any questions that you have! You can also find general camp information below.
Call: (574) 284-4778
Email: camps@saintmarys.edu