Fine Arts Camp
A Week of Creativity!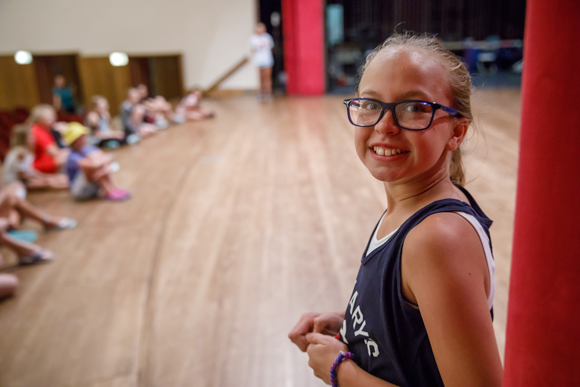 Embark on a journey of self-discovery with friends! Professionally-trained instructors, guide campers in art exploration, storytelling, dance, music, and theatre. Fine Arts Camp focuses on educating young girls and developing their communication, critical, and analytical thinking skills. At the end of the week, your camper presents their work in a Performing Arts Forum on the Saint Mary's College stage. 
Our overnight camp allows campers to cultivate independence and explore what it's like to be on a college campus, under the protection of highly trained instructors and staff. With a summer camp field trip and evening performances, your camper is sure to have a blast!
Day camp is a great opportunity for campers who are not quite ready for an overnight stay. Day camp provides an enriching experience in Fine Arts education from 8 AM - 5 PM.
Whether experienced or not, campers are welcome to enroll in Saint Mary's Fine Arts Camp. The only requirement is the desire to learn and have fun!
Pick your concentration — Experience them all!
When registering for camp, campers choose a concentration for the week and take daily classes in their chosen discipline. They also expand their experience by exploring all five fine arts throughout the week.
Art: Campers will experiment with distinct art forms such as painting, jewelry making, wearable art, paper art, and textiles. Whether sculpting, designing garments, or making friendship bracelets and angel wings, campers bring their own masterpieces to life inside our professional art studios.
Creative Writing: Campers learn to express themselves on the page through unique exercises like reporting, writing ad jingles, poetry slams, monologues, or writing a love letter to a favorite food.
Dance: Each dance class has a distinct rhythm as campers develop skills in memory, musicality, and style. Students learn dance history and vocabulary while exploring ballet, jazz, and modern dance. They then head into our professional dance studio to express themselves through movement as they expand their experience in various dance forms.
Music: Classes immerse campers in the basic elements of music. Past participants have created their own musical instruments, performed Broadway musical selections, and made the most of brooms and trash cans in their own version of the exciting musical show Stomp. Campers are invited to bring a musical instrument from home if they wish to share their talents.
Theatre: Character, voice, and movement provide the building blocks for campers to express their dramatic potential and develop performance skills and collaboration techniques. Classes are held on stage in O'Laughlin Auditorium as campers use theatre games and group exercises to explore and develop their talents.