Fine Arts Camp
A Week of Creativity!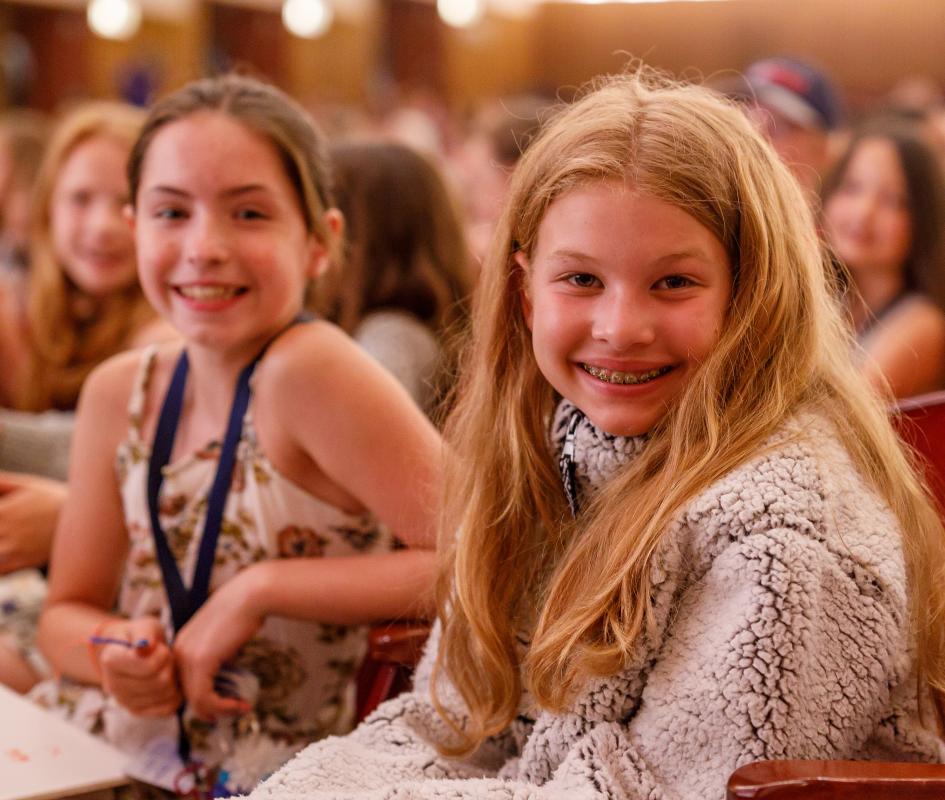 Embark on a journey of self-discovery with friends! Professionally-trained instructors guide campers in art exploration, storytelling, dance, music, and theatre. Fine Arts Camp focuses on educating young girls and developing their communication, critical, and analytical thinking skills. At the end of the week, your camper presents their work in a Performing Arts Forum on the Saint Mary's College stage. 
We are excited to offer Fine Arts Overnight and Day Camp this coming summer! Whether experienced or not, campers are welcome to enroll in Saint Mary's Fine Arts Camp. The only requirement is the desire to learn and have fun!
2022 Camp Registration is Closed
Fine Arts Overnight Camp
For girls entering grades 5-9
Week 1 | July 10-15
Week 2 | July 17-22
Cost: $620
Fine Arts Day Camp
For girls entering grades 4-8
July 25-29 (7:30 AM - 8 AM drop-off | 4:30 PM pick-up EST)
Cost: $375
Pick your concentration — Experience them all!
At Fine Arts Camp, campers explore five fine arts disciplines: art, storytelling, music, dance, and theatre. Campers will have an opportunity to choose which of these disciplines they would like to focus on during camp. Based on their choices, campers attend a daily performance class where they work alongside our professionally trained instructors to create a piece of art within that discipline. At the end of camp, each camper will have the opportunity to present their art to family and friends in our Performing Arts Forum!
In addition to their performance class, campers will explore each of our five fine arts disciplines in our exploration classes. During our exploration classes, campers are introduced to each discipline and create small pieces of art within each discipline.
Take a look at our 2022 class descriptions!
---
ART
Dream Weavers
Performance Class: We will build off the basic techniques we learn in the exploration class and amplify the project. Available to use will be hula-hoops for large scale projects, tree limbs for life size mobiles and wire hangers to create three dimensional weaving sculptures. We'll also dive into small weaving accent projects using plastic straws, pompous, and tassels! 
Exploration Class: We'll work on basic weaving techniques. Mixing nature, wire, and yarn to create simple and colorful wall art. If time allows we'll add in pompoms and tassels. 
Swirls and Curls
Performance Class: Campers will use their own marbled paper to make rolled beads and create custom jewelry and wearable art to take home!
Exploration Class: Campers will explore marbling paper and create swirling designs of color. Campers can use their personalized papers as bases for their own drawings, letters, or even stickers!
---
MUSIC
Uke Jams
Performance Class: Sing songs from the Disney animated film Moana! Learn Lin-Manuel Miranda's beloved songs such as How Far I'll Go, You're Welcome, We Know the Way, and many more! Campers are more than welcome to bring their own ukelele from home if they'd like!
Exploration Class: Learn how to play the popular Hawaiian instrument... the ukulele! During day class, campers will learn how to properly hold, strum, and pluck their way through basics! No experience is needed! 
---
DANCE
Dance and the Power of the Arts
Performance Class: Let's show the world how powerful the arts can be when we all join forces! Campers will use dance as well as other art forms that they enjoy in order to plan, organize, and stage a performance.  Combinations include dancers and singers, dancers with instrumental musicians, dancers with visual artists- or even all the arts working together! Campers in this performance class don't necessarily need to be dancers- we'll need musicians (with instruments), singers, and visual artists, too! 
Exploration Class: Choreography, or dance-making, is a creative process that begins with inspiration from what we see, hear, feel, and experience.  Campers will take part in games and activities using various inspirations for exploring and improvising movement, learn how to design and shape those movements, and ultimately create dances of their own!
---
THEATRE
Experimenting with Performance
Performance Class: In small groups, campers will develop short skits about a science-based research project that they will write, rehearse, and perform over the course of the week. The individual skits will then be fine-tuned by the entire class so that they can be woven together to create a cohesive story for our final performance in front of our family and friends.
Exploration Class: All campers will explore the building blocks of storytelling, improv, and performance as individual parts of a whole and in small groups. In our classes everyone is expected to participate in voice and movement games, partner and group improv, all building to short group skits. We ease campers into performing by starting with whole group activities and allowing them to choose how big a part they will play in each activity, building confidence, a support structure, and trust as we work.
Questions?
We know how important choosing a summer camp is for you and your daughter. Because of this we are happy to answer any questions that you have! Summer camp information for parents can be found below.