Fine Arts Camp
A Week of Creativity!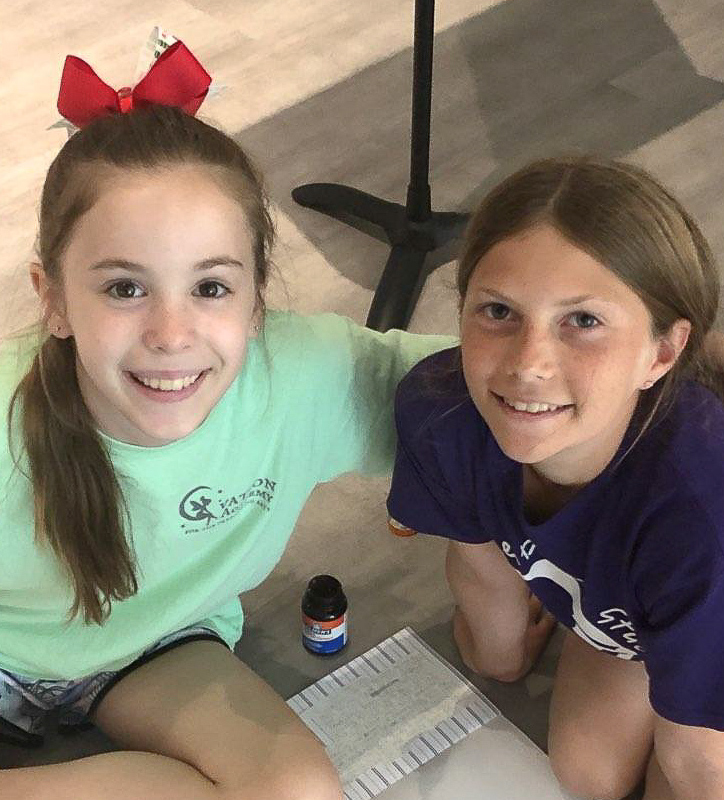 Embark on a journey of self-discovery with friends! Professionally-trained instructors, guide campers in art exploration, storytelling, dance, music, and theatre. Fine Arts Camp focuses on educating young girls and developing their communication, critical, and analytical thinking skills. At the end of the week, your camper presents their work in a Performing Arts Forum on the Saint Mary's College stage. 
Our overnight camp allows campers to cultivate independence and explore what it's like to be on a college campus, under the protection of highly trained instructors and staff. With a summer camp field trip and evening performances, your camper is sure to have a blast!
Day camp is a great opportunity for campers who are not quite ready for an overnight stay. Day camp provides an enriching experience in Fine Arts education from 8 AM - 5 PM.
Whether experienced or not, campers are welcome to enroll in Saint Mary's Fine Arts Camp. The only requirement is the desire to learn and have fun!
Overnight Camp
Dates: July 12–17 and/or July 19–24
Ages: Girls entering grades 5–9
Deadline: June 12
Camp Cost: $570*
*Save $50 when you register by April 30!

Pick your concentration — Experience them all!
At Fine Arts Camp, campers explore five fine arts disciplines: art, storytelling, music, dance, and theatre. When registering for camp, campers choose which of these disciplines they would like to focus on during camp. Based on their choice, campers attend a daily concentration class where they work alongside our professionally trained instructors to create a piece of art within that discipline. At the end of camp, each camper will have the opportunity to present their art to family and friends in our Performing Arts Forum!
In addition to their concentration class, campers will explore each of our five fine arts disciplines in our exploration classes. During our exploration classes, campers are introduced to each discipline and create small pieces of art within each discipline.
Take a look at our 2020 class descriptions! Due to popular demand, we offer two different forms of art.
---
ART
Conceal-Reveal: The Art of Masks
Concentration Class: Campers will build on what they learn in their exploration class and make a full-face mask. Campers will design their own mask, choosing how much of the face or head their mask will conceal, and mold new elements like horns, antlers, wings, or inorganic forms. By combining the plaster gauze and paper-mâché techniques, each mask will become a unique sculptural identity for the campers.
Exploration Class: Campers will mold plaster-infused gauze into a custom, sculpted half-mask, adding details with paint, feathers, and beads to create a new look all their own!
Small Art, Big Impact
Concentration Class: Campers will design their own personalized peg doll to look like themselves. Each camper will make enough dolls to trade with their fellow classmates so that everyone leaves with a collection of peg dolls and lots of new friends!
Exploration Class: Campers will explore making fairy doors that can be taken home and put in their backyard or left on Saint Mary's College campus. If there's time, campers will use clay to build crystal/geode inspired jewelry holders.
---
STORYTELLING
My Life- Live!: Improve and Creative Storytelling
Concentration Class: Using techniques from the Italian Commedia dell'Arte, campers will explore story through scenarios, masks, stock (stereotypic) characters, and physical comedy. Commedia dell'Arte began in Italy in the early 16th Century and quickly spread throughout Europe, creating a lasting influence on Shakespeare, Molière, opera, vaudeville, contemporary musical theatre, sit-coms, and improv comedy.
Exploration Class: Classes will investigate the components of "story" through personal experience and presentation.
---
MUSIC
The Power of Sound: Creation of Music Through Science
Concentration Class: Campers will compose a piece of music using random household items, painted and decorated to create and make interesting rhythms to compose a piece of music.
Exploration Class: Science meets music, using a Chladni Plate to show Cymatics. The Chladni plate shows different patterns that form in the sand once different pitches are heard. Classes will also learn how the voice phonates and discuss Tesla coils and how to set these coils to music.
---
DANCE
Take a Chance on Dance!
Concentration Class: Campers will perform excerpts from Act II of The Nutcracker ballet. In this act, Clara and the Prince travel to the beautiful Land of Sweets, ruled by the Sugar Plum Fairy. The Prince tells Clara how she saved him from the Mouse King and, in her honor, a celebration of sweets from around the world is produced. Fine Arts campers will learn about dance around the world while celebrating this holiday tradition!
Exploration Class: Chance Dance is a technique that modern dance choreographer Merce Cunningham used as a way to provide an element of surprise in his pieces. The dancers involved would develop sequences based on chance such as flipping coins, rolling dice, and picking cards from a deck. Fine Arts campers will experience chance dance activities with a variety of inspirations to cultivate collaboration and creativity!
---
THEATRE
Find Yourself in Character
Concentration Class: Drawing on the performance skills they have practiced in daily classes to further their creativity and confidence, campers will transform themselves into extraordinary personalities in a collective presentation for the Forum on Friday.
Exploration Class: Using small groups, campers will build character and develop scenarios to perform for the group. They will develop collaborative thinking skills and inspiring improvisational creativity in an environment that is safe and supportive. Daily theatre classes will allow campers to find their own voices in a space of limitless storytelling and performance. Participants will cultivate the confidence to tell their own story and exhibit their natural skills to present it to the world.

Meet Our Faculty
Fine Arts Camp Director

Hello, Fine Arts Campers! My name is Meghan Barnauskas, and I am thrilled to be returning as the director for camps this year! This is my third summer as the director and ninth working for camp. Having worked as a counselor, the creative writing instructor, the night supervisor, and the director, I can say that Saint Mary's Summer Camps are the best place to spend your summer! I graduated from Saint Mary's College in 2014 with majors in elementary education as well as a minor in Spanish, and I also earned a master's degree in mathematics education from Ball State University in 2019. I currently live in Livonia, Michigan, and I love my job teaching seventh and eighth grade math! I cannot wait for the summer to arrive and to meet you all in July!
Music Instructor

McKayela Hornor is an accomplished performer and teacher. She has enjoyed teaching an array of ages including toddlers through adults. Her skills focus heavily on technique and a variety of repertoire for students and choirs. When she is not teaching, she is vocal directing shows such as, The Little Mermaid, Mary Poppins, and West Side Story. Being an active singer, her more notable roles include: Maria, The Sound of Music; Suor Angelica, Suor Angelica; Phyllis, Iolanthe; and Paquette, Candide. Mrs. Hornor has been active not only with musicals, operas, recitals, and master classes, but also with pastoral music as well. Receiving her Bachelors at Saint Mary's College, Notre Dame, Indiana and her Masters at Bowling Green State University, Bowling Green, Ohio, she earned both degrees in Vocal Performance. While attending Bowling Green University, she was able to study with Metropolitan Opera Singer, Myra Merritt.
She currently teaches at a local private Pre-K through 8th grade school and teaches voice to musical theatre students at Indiana University-South Bend. Mrs. Hornor also was the 2015 recipient of the John and Candace Butler Lifetime Dedication to the Arts Award.
Storytelling Instructor

Susan Brabant Baxter has been teaching playwriting, journalism, and communication studies for 19 years at Saint Mary's, and since 2013 has been director of the Writing Proficiency Program. She has taught drama and creative writing for more than 5 Summers, in both Fine Arts Camps and Summer Academy. Before Saint Mary's, she spent more than 20 years as a journalist and playwright, she has won state, regional, and national awards and citations for her work.
Susan was a featured columnist for the National Catholic Register. Her plays have been mounted in many staged readings and productions, most recently Like a Mighty Tree, at Saint Mary's in 2014. The student body honored her with their Woman of the Year Award in 2009 and again in 2014. She also won the Kevin J. and Marijo Kelley Faculty Award in March of 2018.
She holds a BA from Seton Hill University and an MFA from Indiana University in Bloomington, and is a proud member of the Dramatists Guild of America. She married her hero, Campus and Community Events Director Richard Baxter, in 1984. They have two children, Miranda, who graduated from Saint Mary's in 2009, and Dan, who graduated from DeSales University in 2013.
Dance Instructor

Michele Kriner, Dance Instructor, is a Professor with Saint Mary's Program in Dance during the year and also a Dance Teacher at Clay High School for the Visual and Performing Arts in South Bend. She loves to do all forms of dance from ballet to modern to folk and believes everyone can learn to dance! She also loves dogs, ginger ale, and camp t-shirts. If you've always wanted to dance, Fine Arts Camp is the place to give it a try- if you've always danced, Fine Arts Camp is the place to share that joy with your camp friends!
Theatre Instructor

This will be Annaliese McSweeney's second summer as the Theatre Instructor at the SMC Fine Arts Camp. You may remember her from two years ago with her debut production of Sad Tire Swing. Annaliese fell in love with camp as a counselor back in 2007 while attending Saint Mary's College (2009) and she just keeps coming back. Annaliese is passionate about helping young women find their voices and craft their own stories for the stage. She loves the first rehearsal of a play, the improv game Party Guests, dance parties, and working out the "next great idea" with fellow artists. When not at camp, Annaliese is a freelance theatremaker in Chicago and Northwest Indiana. Her specialty is working with playwrights to develop new scripts for production. Most recently she enjoyed working with Indiana University Northwest on the research and production of a three-play cycle. At home her two young boys and her husband push her creativity, her storytelling, and her improv skills every day.
Art Instructor

Caitlin Reilly is over the moon to be returning to Fine Arts Camp for Summer 2020! She has been with FAC as an instructor on & off for the last fourteen years (she was also a camper & counselor!) She is a 2006 graduate from Notre Dame with her Bachelors of Fine Arts degree in photograph. Currently a stay-at-home-mom with her three young kids she loves sour candy, coffee, magic wands, old school film cameras, soccer games, spring flowers, making new friends, and summer camp!!!
Art Instructor

Molly is super excited to return to Fine Arts Camp in 2020! She has been a Fine Arts camper, counselor, night supervisor, assistant director, and this year will be her sixth as an art instructor. Molly graduated from Saint Mary's in 2007 with a Bachelor of Fine Arts with a concentration in ceramics. After eight years of working in museum fundraising, Molly went back to school at IUPUI to become certified in K-12 art education. She has been teaching art at Edison Middle School in South Bend since 2017, and loves awesome art students. In her down time, Molly paints and creates as much art as possible, and still hopes to write and illustrate a children's book some day! Molly can't wait to see the amazing things our campers create this year!
---
Meet Our Counselors
Gina Twardosz

Hi! My name is Gina Twardosz and I'm a senior at Saint Mary's who will be graduating with a BA in English Writing and Communication Studies in May. I love the Saint Mary's community and all the friends I've made here! I love to read, write funny stories, tell jokes, and play board games. In my spare time at Saint Mary's, I performed in a few plays and worked as a reporter for the student newspaper, The Observer. I'm excited to be returning as a camp counselor because I had so much fun the last time and I can't wait to meet everyone this year!
Rebecca Strom

Hi campers! My name is Becca, and I am a recent Saint Mary's graduate from the class of 2020. This is my second year as a counselor for the fine arts camp, and I am so excited for another fun-filled summer! During my time at Saint Mary's, I majored in English writing and humanistic studies and minored in theatre performance. My favorite part of my SMC experience was getting involved in the arts, especially in the theatre program, where I made some of my best friends! I fell in love with theatre at SMC while playing a woman who falls in love with a cactus in the short play, Saguaro, but some of my other roles have included Peter Pan in Neverland and Alice in Alice in Wonderland. I can't wait to share my love for theatre and the arts with you this summer!
Erin Bennett

Hello! I'm Erin Bennett and I'm going to be a sophomore in the fall at Saint Mary's College. I will be graduating with a BA in Business Administration and a Biology and PR & Advertising double minor. Saint Mary's College has provided me the opportunity to meet so many great friends/peers and empowered me to discover my true self. I am currently on the SMC Women's Golf team and participate in Campus Ministry and Faith based activities on campus. I am from Martinsville, Indiana, a small town only a few minutes away from Bloomington, IN. I grew up golfing with my sisters and dad, and love to journal, run, and read! This is my first time experiencing Saint Mary's College Summer Camp and I am so excited to experience it with you all!
Bridget Kenney

Hello!! My name is Bridget Kenney and I am going to be a Junior this fall at Saint Mary's College. I am majoring in history with a double minor in film studies & United States history. I am a student-athlete on the Saint Mary's cross country team! Outside of running, I am in the Belles for Life Club, ND Right to Life, ND Rock Climbing Club, ND/SMC Irish Dance Team, and I work on campus. I am from the mitten in the metro-Detroit area. I am the fifth out of seven children. I love spending my summers running, swimming, and hiking in the up-north Michigan area, I am obsessed with all things Disney, and I love spending time with my family and friends. This year is my third year working as a fine art's counselor and I was a camper for two summers. I cannot wait to create happy summer camp memories!!
Kaitlynn Riba

Hello campers! My name is Kaitlynn! I am a current Saint Mary's student, class of 2020. This is my first year as a counselor at the fine arts camp, but I am extremely excited to be apart from this program because of the many great things I've heard about it. I am currently undecided as my major, but next semester I plan to declare my major as elementary education. I am very excited to be apart of this program an learn so many new things along side of you all this summer! I can't wait!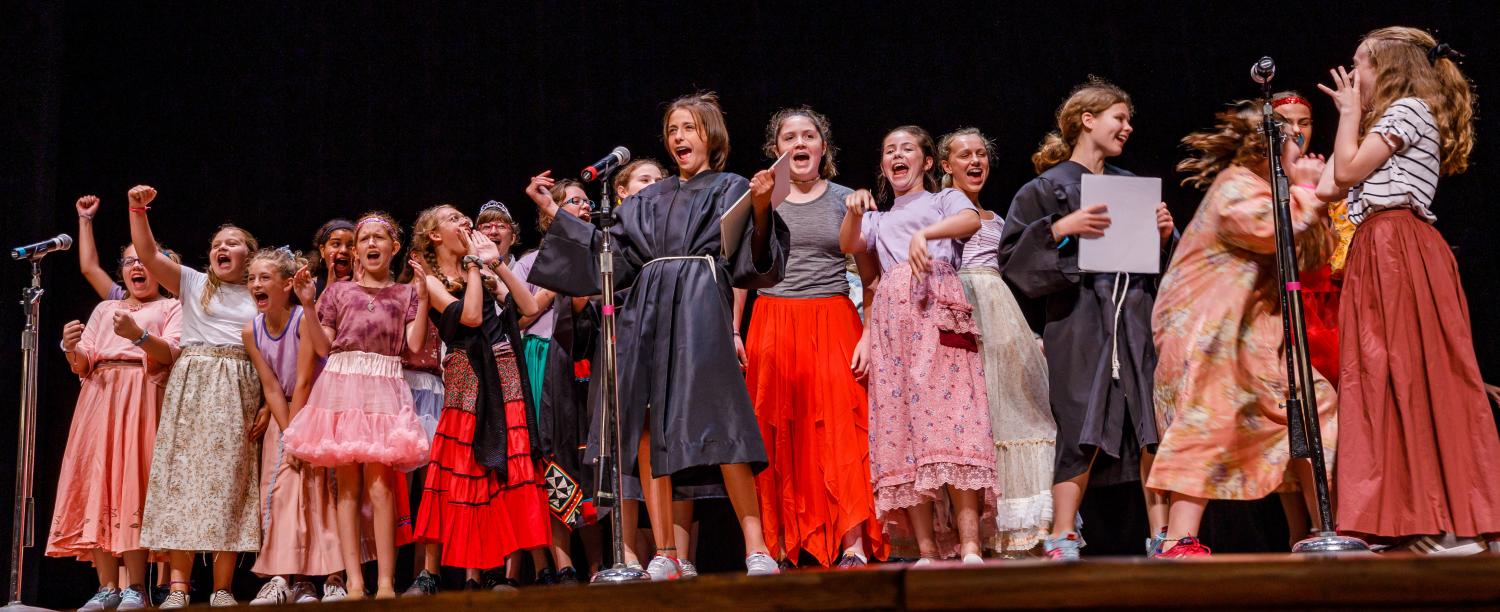 Questions?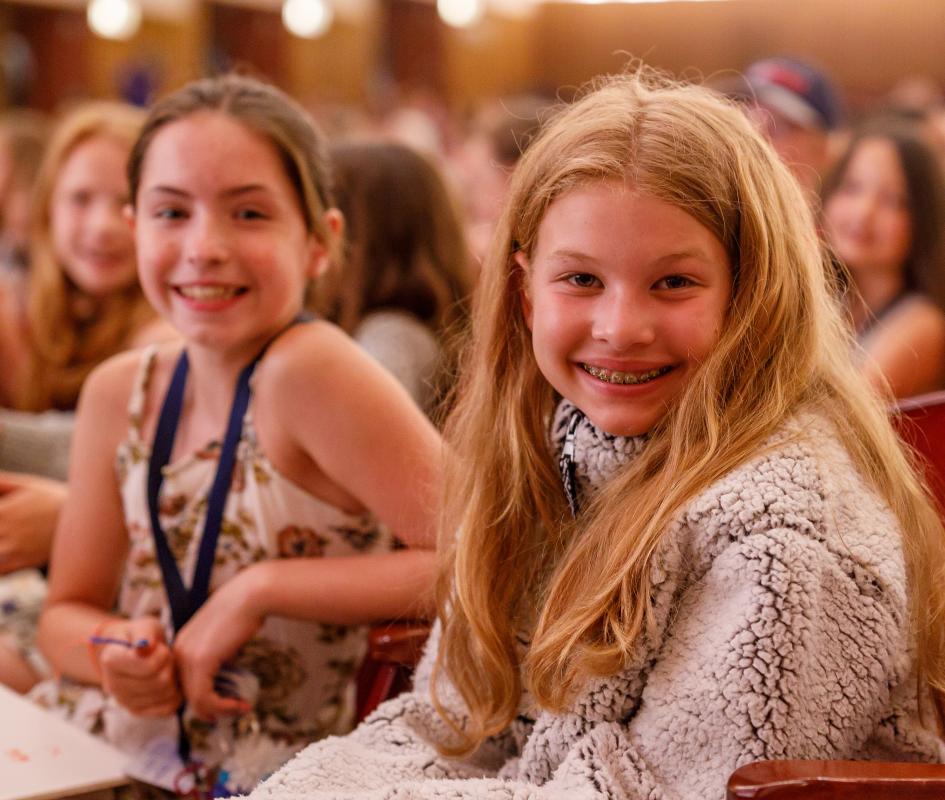 We know how important choosing a summer camp is for you and your daughter. Because of this we are happy to answer any questions that you have! Summer camp information for parents can be found below.