Fine Arts Camp
A Week of Creativity!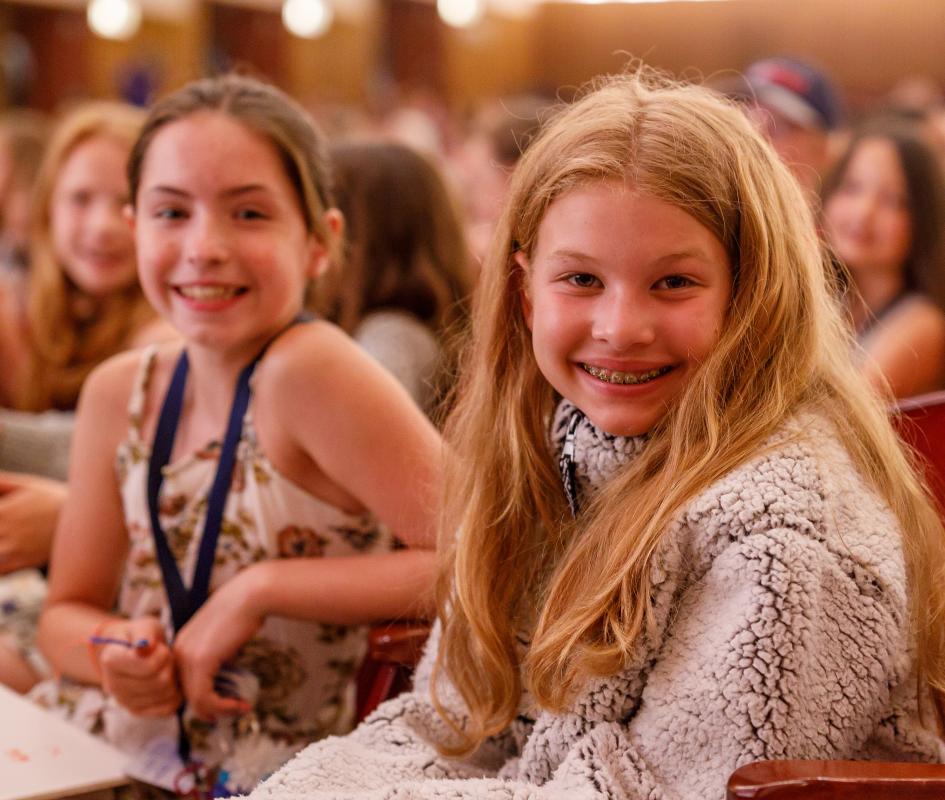 Embark on a journey of self-discovery with friends! Professionally-trained instructors guide campers in art exploration, storytelling, dance, music, and theatre. Fine Arts Camp focuses on educating young girls and developing their communication, critical, and analytical thinking skills. At the end of the week, your camper presents their work in a Performing Arts Forum on the Saint Mary's College stage. 
We are excited to offer Fine Arts Overnight and Day Camp this coming summer! Whether experienced or not, campers are welcome to enroll in Saint Mary's Fine Arts Camp. The only requirement is the desire to learn and have fun!
Summer 2022 Camp Information:
Fine Arts Overnight Camp
For girls entering grades 5-9
Week 1 | July 10-15
Week 2 | July 17-22
Early Bird Pricing: $570 (ends March 31st, 2022)
Regular: $620
Fine Arts Day Camp
For girls entering grades 4-8
July 25-29 (7:30 AM - 8 AM drop-off | 4:30 PM - 5 PM pick-up EST)
Early Bird Pricing: $350 (ends March 31st, 2022)
Regular: $375
Pick your concentration — Experience them all!
At Fine Arts Camp, campers explore five fine arts disciplines: art, storytelling, music, dance, and theatre. Campers will have an opportunity to choose which of these disciplines they would like to focus on during camp. Based on their choices, campers attend a daily performance class where they work alongside our professionally trained instructors to create a piece of art within that discipline. At the end of camp, each camper will have the opportunity to present their art to family and friends in our Performing Arts Forum!
In addition to their performance class, campers will explore each of our five fine arts disciplines in our exploration classes. During our exploration classes, campers are introduced to each discipline and create small pieces of art within each discipline.
Take a look at our 2021 class descriptions! Stay tuned for our 2022 class descriptions coming soon!
---
ART
Conceal-Reveal: Clever Clay
Performance Class: In this class, campers will build on what they've learned in the daily class and make a complete clay sculpture in the round. Campers will design their own creatures, constructing the core of their sculptures with our pinch pot techniques, and mold new elements like arms and legs, horns, antlers, or even wings to bring their critter characters to life!
Exploration Class: Campers will learn hand-building techniques to create customized pinch pot sculptures. These will be both functional and decorative - adding sculptural details like geometric patterns and forms, or even animal faces and paws! The projects will be finished with paint to complete their air-dry artworks.
Small Art: Big Impact
Performance Class: Campers will design their own personalized peg doll to look like themselves. Each camper will make enough dolls to trade with their fellow classmates so that everyone leaves with a collection of peg dolls and lots of new friends!
Exploration Class: Campers will explore making fairy doors that can be taken home and put in their backyard or left on Saint Mary's College campus. If there's time, campers will use clay to build crystal/geode inspired jewelry holders.
---
STORYTELLING
My Life-Live!: Improv and Creative Storytelling
Performance Class: We will record podcasts with story, art, and music!
Exploration Class: Classes will investigate the components of "story" through personal experience and presentation. Using techniques from the Italian Commedia dell'Arte, campers will explore story through scenarios, masks, stock (stereotypic) characters, and physical comedy. Commedia dell'Arte began in Italy in the early 16th Century and quickly spread throughout Europe, creating a lasting influence on Shakespeare, Molière, opera, vaudeville, contemporary musical theatre, sit-coms, and improv comedy.
---
MUSIC
The Power of Sound: Creation of Music Through Science
Performance Class: Campers will compose a piece of music using random household items, painted and decorated to create and make interesting rhythms to compose a piece of music.
Exploration Class: Science meets music, using a Chladni Plate to show Cymatics. The Chladni plate shows different patterns that form in the sand once different pitches are heard. Classes will also learn how the voice phonates and discuss Tesla coils and how to set these coils to music.
---
DANCE
Take a Chance on Dance!
Performance Class: Campers will perform excerpts from Act II of The Nutcracker ballet. In this act, Clara and the Prince travel to the beautiful Land of Sweets, ruled by the Sugar Plum Fairy. The Prince tells Clara how she saved him from the Mouse King and, in her honor, a celebration of sweets from around the world is produced. Fine Arts campers will learn about dance around the world while celebrating this holiday tradition!
Exploration Class: Chance Dance is a technique that modern dance choreographer Merce Cunningham used as a way to provide an element of surprise in his pieces. The dancers involved would develop sequences based on chance such as flipping coins, rolling dice, and picking cards from a deck. Fine Arts campers will experience chance dance activities with a variety of inspirations to cultivate collaboration and creativity!
---
THEATRE
Find Yourself in Character
Performance Class: Drawing on the performance skills they have practiced in daily classes to further their creativity and confidence, campers will transform themselves into extraordinary personalities in a collective presentation for the Forum on Friday.
Exploration Class: Using small groups, campers will build character and develop scenarios to perform for the group. They will develop collaborative thinking skills and inspiring improvisational creativity in an environment that is safe and supportive. Daily theatre classes will allow campers to find their own voices in a space of limitless storytelling and performance. Participants will cultivate the confidence to tell their own story and exhibit their natural skills to present it to the world.
Questions?
We know how important choosing a summer camp is for you and your daughter. Because of this we are happy to answer any questions that you have! Summer camp information for parents can be found below.