Madeleva Lecture Series
The 29th Madeleva Lecture
Glass Ceilings and Dirt Floors: Women, Work, Catholic Social Teaching, and the Global Economy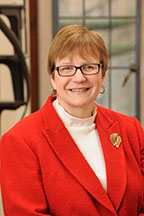 Christine Firer Hinze
Professor of Theology
Director, Francis and Ann Curran Center for American Catholic Studies
Fordham University

April 24, 2014
7:30 p.m. Carroll Auditorium, Madeleva Hall

Admission is free.

Hinze's teaching and research interests focus on foundational and applied issues in Christian social ethics with special emphasis on Catholic social thought, work, justice, women, and families. She holds a BA in religion and an MA in theology from the Catholic University of America, and a PhD in Christian social ethics from the University of Chicago.
She is the author of Comphrending Power in Christian Social Ethics; a book in preparation entitled, Radical Sufficiency: The Legacy and Future of the Catholic Living Wage Agenda, and numerous scholarly essays in books and in journals such as Theological Studies, The Journal of the Society of Christian Ethics, The Journal of Catholic Social Thought, and Studies in Christian Ethics.
About the Madeleva Lecture Series
Named after the legendary Sister Madeleva Wolff, CSC, president of Saint Mary's College from 1934 to 1961, the series is well known both nationally and internationally. Some of the most influential women scholars of the past twenty-five years are past-Madeleva Lecturers. In 2000 the lecturers collaborated as a group to write the now famous "Madeleva Manifesto: A Message of Hope and Courage." In part, it says

To young women looking for models of prophetic leadership, we say: walk with us as we seek to follow the way of Jesus Christ, who inspires our hope and guides our concerns. The Spirit calls us to a gospel feminism that respects the human dignity of all, and who inspires us to be faithful disciples, to stay in the struggle to overcome oppression of all kinds whether based on gender, sexual orientation, race or class.

To the young women of the church we say: carry forward the cause of gospel feminism. We will be with you along the way, sharing what we have learned about the freedom, joy and power of contemplative intimacy with God. We ask you to join us in a commitment to far-reaching transformation of church and society in non-violent ways.
To view the full manifesto, click here. For a list of past Madeleva lecturers (1985-present), click here. To order a copy of a past lecture, visit the website for Paulist Press.
Click here for a Saint Mary's campus map and parking directions.