Alex Bauer
Associate Director of Admission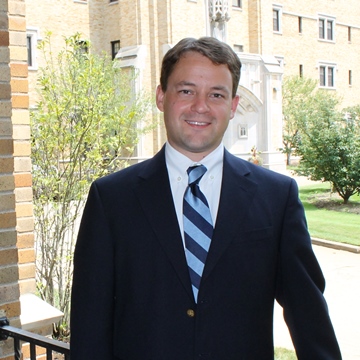 He/him
Email: abauer@saintmarys.edu
Text: 574-485-0088
About Alex
I am returning to my hometown of South Bend and am proud that it is to work at Saint Mary's. Higher education and the student experience are passions of mine that I am excited to share with future generations of Saint Mary's women. My connection to Saint Mary's has spanned the past few years, as my wife is an alumna. We were engaged in the shadows of Le Mans Hall on the bridge over Lake Marian, shortly after her graduation. I'm looking forward to a great year!
Getting to Know Alex
Current music you're listening to:
Luke Bryan, Brad Paisley, and Zac Brown Band - it can change day to day!
Your favorite way to relax:
A day trip to Lake Michigan, spending the day on the beach and exploring a new town.
Your dream vacation:
A ski trip to Lake Tahoe
The coolest place you have visited:
The granite rock formations at Virgin Gorda in the British Virgin Islands were amazing!
Your favorite thing about South Bend:
South Bend has a good music scene. Many restaurants, bars, and coffee shops offer open mic or acoustic nights for small or local acts. There are also larger venues on campus and in town for national artists.
Your favorite thing about Saint Mary's:
My two favorite things are the beautiful campus and the great community.
Alex's Admission Tip for Prospective Students
Be true to yourself. Use something that is a passion of yours to tell your story. Choose an institution that allows you to develop and grow your passions in and out of the classroom.