Improving a Sense of Belonging
By Haleigh Ehmsen '16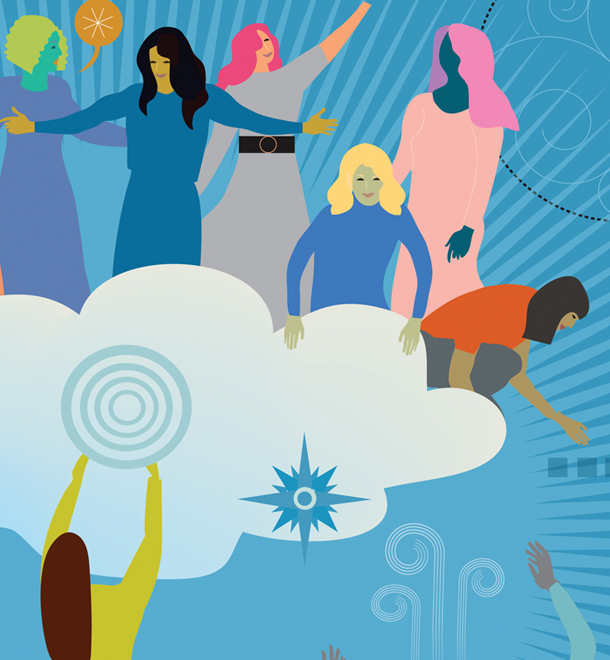 "Nadia" is a Saint Mary's junior; a first-generation student from rural Texas. An academic standout in high school, she discovered Saint Mary's and took the virtual tour offered by the College's Admission Department. She remembers falling in love with the campus, and how her admission counselor helped her envision herself a part of the community. Money would be tight, but through a network of scholarships and financial aid, her tuition, room, and board was covered. Happily, she joined the Class of 2022.
Nadia is a pseudonym because she is hesitant to share her real name or appear to complain—because she loves her time on campus, and knows her degree is around the corner. Yet there are times when she feels a little left out. Like maybe there are things she is missing out on because she does not have the resources—money to replace her six-year-old laptop, for example. Or to buy ND football tickets, even with the student discount.
"So much of what happens on campus is outside the classroom," she says. "I never understood that before I came here." 
Redgina Hill, PhD is the executive director of the Office of Inclusion and Equity. She says Nadia's experience is not uncommon. Nearly one third of the students at Saint Mary's are first generation, and 26% are Pell Grant recipients. For students like Nadia, scholarships and financial aid help to cover tuition and fees, but students still often miss out on the other aspects of the college experience, like field trips, academic conferences, technology, among others. 
These social and financial pressures mount over four years, Hill said. Many students work several jobs to pay for their books, club fees or dues, class ring, and travel. For juniors, Junior Moms Weekend is a fun part of the Saint Mary's experience, but there are fees to participate. Though the ongoing pandemic has led to the cancellation of this year's event, even pre-Covid, Nadia wasn't sure she would be able to attend because her mom would need to fly in from Texas and stay in a hotel. Hill says a new office will provide financial support and resources for students and should help reduce some of that pressure.
The Office for Student Equity was recently established to provide wraparound services for first-generation and under-resourced students like Nadia. Funded through a major gift from the Wilson Sheehan Foundation, the Office for Student Equity has already begun its work. Hill said funds have already been disbursed to provide dozens of students with their commencement regalia. 
"By removing barriers and providing co-curricular opportunities, these services allow our students to focus on academics as well as to have access to the full college experience," Hill said. "We also know when these barriers are removed, students will be more likely to complete their education." 
Lorraine Sheehan Wilson '85 and Chris Wilson (ND '85), founders of the Wilson Sheehan Foundation, know that barriers to college persistence are well understood and can be reduced with attentive management. It's what led them to help establish the Office for Student Equity.
"We know that students will be impacted in ways large and small, from laptop computers to winter coats to travel home to football tickets," Lorraine said. "What is impactful will vary student to student, and sometimes it is the small things which resonate the most."
The College has had a Student Emergency Fund for many years, but the new gift helps to operationalize funds and resources for all students in need, rather than being limited to meeting emergency needs.
The work of this new office is directly in line with the core values of the College, especially justice, Hill said. "This is the true work of equity—the work of justice and compassion. If we're doing this work right, we will increase the sense of belonging for our students." 
---
"By removing barriers and providing co-curricular opportunities, these services  allow our students to focus on academics as well as have access to the full college experience."
—Redgina Hill, Ph.D., Executive Director of Inclusion & Equity
---
All In: The Wilson Match
With the investment from the Wilson Sheehan Foundation, Saint Mary's created the Office for Student Equity to enable a stellar educational experience for all students. Recognizing that $7 million will endow the work of this office in perpetuity, the foundation made an outright gift of $3 million. In addition, they issued a challenge: They will give up to $2 million in additional support if Saint Mary's raises a match of $2 million by December 31, 2023. Funds raised by The Wilson Match will impact generations of young women by reducing barriers that often disadvantage first-generation and low-income college students.
To learn more, visit saintmarys.edu/all-wilson-match