Le Mans Hall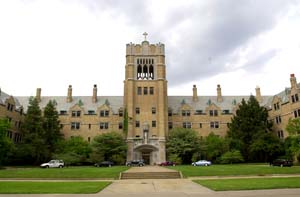 Sharing a Home with the President
Le Mans Hall serves as Saint Mary's largest residence hall, and is the central hub for Saint Mary's administrative offices including the President's Office, the Office of Admission, the Department of Residence Life, and the Counseling Center. Le Mans is well recognized for its stately foyer and public lounge, the Holy Spirit Chapel, and the tower that serves as Saint Mary's most identifiable landmark. Le Mans offers a range of rooms, from cozy singles to spacious quads.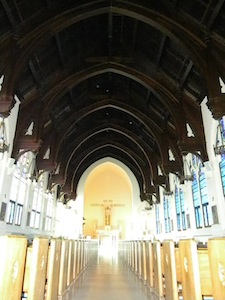 Holy Spirit Chapel Le Mans Hall
About:
Built: 1926
Houses: 516
Special Interest Areas: Queens Court
Hall Color: Red
Hall Mascot: Angels
Service Organization: Hannah's House

Features:
Room Features: Hardwood floors, center of campus

Room Configurations:Offers Singles, Doubles, Triples, and Quads

Chapel Name: Holy Spirit Chapel
Special Spaces: Rainbeaux Room, Stapleton, Academic Areas

Special Features: Bell Tower
Rooms:
LeMans Hall offers a variety of rooms that accommodate one to four students.
Follow this link to see Pricing for Le Mans Hall.
Follow this link to see Dimensions for Le Mans Hall.
Follow this link to see Floor Plans for Le Mans Hall.