Opus Hall

Creating Traditions
Opus Hall is the newest residence hall on campus, which is designed specifically for senior students. This apartment-style residence offers senior students the independence of living off campus with the comforts and security of on campus living. The two- and four-bedroom furnished apartments include private bedrooms and bathrooms, full kitchens, heating and air conditioning, and common living rooms. The common areas include an open-air deck and offer features such as a large screen television, a working fireplace, a meditation room, and storage and laundry facilities.
About:
Built: 2004
Houses: 72
Special Interest Areas: Independent Living
Hall Color: Orange
Hall Mascot: Owls
Service Organization: Hannah's House, Hannah and Friends, St. Margarets House.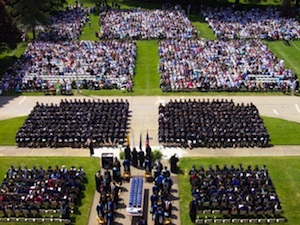 Features:
Apartment Features: Air Conditioning, Carpeted Floors, Separate Bedrooms, Kitchens, and Double Sink Bathrooms.
Room Configurations:Offers two bedroom and four bedroom apartments
Chapel Name: Opus Prayer Room
Special Spaces: 2nd and 3rd floor Conference Rooms
Special Features: Parking Lot for Opus Residents Only
Rooms:
Opus Hall Apartments offers a variety of rooms that accommodate two to four students.
Follow this link to see Pricing for Opus Hall Apartments.