Outstanding Faculty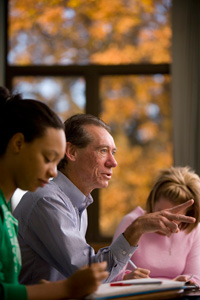 Our faculty are exceptional. Not just experts in their fields. They're supportive. Engaging. Enthusiastic. And they care about you, the student, making sure you have the tools to succeed.
"I'm not just mentoring our students as a speech and language pathologist or as a teacher, but also as a woman and as another human being."
—Susan Latham, assistant professor, communicative disorders
Statistics
83% of full time faculty have terminal degrees in their fields 
Small classes averaging 18 students 
Student-to-faculty ratio of 10:1 
Classes taught by professors, not graduate teaching assistants
Recent Faculty Award Recipients 
Each year, we recogize our faculty for recent accomplishments.
Want to know more? Explore our faculty profiles to learn about the community of scholars who will help you learn, grow, achieve, and succeed at Saint Mary's College.