Patricia Hampl

Patricia Hampl
"Sacrament of Self:
The Catholic Roots of Contemporary Memoir"
Click here for the video archive of the Christian Culture Lecture 2007 **

Thursday September 13, 2007 7:30 p.m.
Little Theatre, Moreau Center for the Arts
Saint Mary's College
Free and open to the public
About Speaker Patricia Hampl ( www.patriciahampl.com)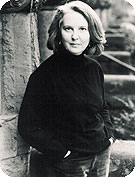 Patricia Hampl first won recognition for A Romantic Education (1981), a memoir about her Czech heritage. Her books also include Virgin Time (1992), a memoir about her Catholic upbringing and an inquiry into contemplative life, and Burning Bright (1995), an anthology of sacred poetry drawn from Judaism, Christianity, and Islam. Winner of numerous awards and honors, including a MacArthur Fellowship, Ms. Hampl is Regents' Professor and also McKnight Distinguished Professor at the University of Minnesota in Minneapolis. Her fiction, poems, reviews, essays, and travel pieces have appeared in many publications, including The New Yorker, Paris Review, New York Times Book Review, and Los Angeles Times. Her most recent works are Blue Arabesque (2006), a nonfiction book about Matisse, and a memoir about her parents called The Florist's Daughter (2007).
About Her Talk
With the literary memoir taking its place as the "signature genre of the age," according to a cover piece in the New York Times Magazine several years ago, autobiographical writing has achieved a position in American culture once accorded only to fiction. Yet the background and history of the form, the impulse toward the first person voice and its intimate story are often misunderstood--and either trivialized or aggrandized. Patricia Hampl's lecture will consider the fountainhead of autobiographical inquiry from Augustine to its secular modernity as the quest literature of our times.
** This video is best viewed on a Windows computer with Windows Media Player and Flip4Mac on a Mac. Both are free downloads.