2014: Reza Aslan

Reza Aslan
Zealot: The Life and Times of Jesus of Nazareth
Tuesday, September 16, 2014
O'Laughlin Auditorium
Saint Mary's College
(book signing and reception to follow)
About Reza Aslan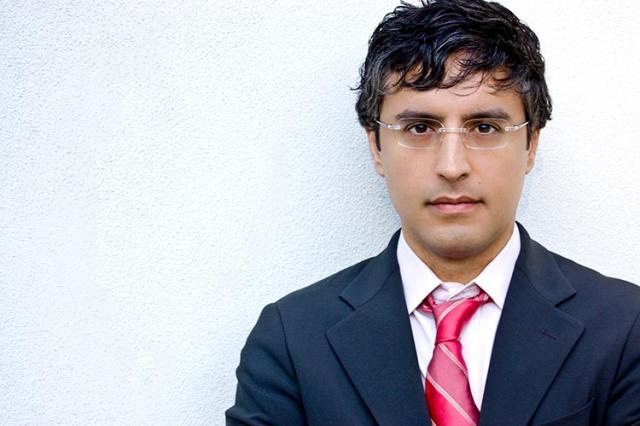 Dr. Reza Aslan, an internationally acclaimed writer and scholar of religions, is author of the #1 New York Times Bestseller Zealot: The Life and Times of Jesus of Nazareth. Aslan's first book is the International Bestseller, No god but God: The Origins, Evolution, and Future of Islam, which has been translated into seventeen languages, and named one of the 100 most important books of the last decade. He is also the author of How to Win a Cosmic War (published in paperback as Beyond Fundamentalism: Confronting Religious Extremism in a Globalized Age), as well as editor of two volumes: Tablet and Pen: Literary Landscapes from the Modern Middle East, and Muslims and Jews in America: Commonalties, Contentions, and Complexities. Born in Iran, he lives in Los Angeles where he is Associate Professor of Creative Writing and Cooperating Faculty in the Department of Religion at the University of California, Riverside. He is the founder of AslanMedia, a social media network for news and entertainment about the Middle East and the world, and co-founder and Chief Creative Officer of BoomGen Studios, the premier entertainment brand for creative content from and about the Greater Middle East. He also serves on the board of directors of the Ploughshares Fund, which gives grants for peace and security issues; Narrative Four, which connects people through the exchange of stories; PEN USA, which champions the rights of writers under siege around the world; and the Levantine Cultural Center, which builds bridges between Americans and the Arab/Muslim world through the arts.
About His Lecture
In this keynote, based on his new #1 New York Times bestselling book, Reza Aslan sifts through centuries of mythmaking to shed new light on one of history's most influential and enigmatic characters. Balancing the Jesus of the Gospels against the historical sources, Aslan describes a man full of conviction and passion, yet rife with contradiction. He explores the reasons why the early Christian church preferred to promulgate an image of Jesus as a peaceful spiritual teacher rather than a politically conscious revolutionary. And he grapples with the riddle of how Jesus understood himself, the mystery that is at the heart of all subsequent claims about his divinity. Aslan's fascinating, provocative, and meticulously researched talk offers a singularly brilliant portrait of a man, a time, and the birth of a religion and challenges long-held assumptions about the man we know as Jesus of Nazareth.
Presented by the Department of Humanistic Studies. The Christian Culture Lecture honors the late Professor Bruno Schlesinger and is made possible by the generosity of Dr. Susan Fitzgerald Rice '61 and her husband, Dr. Donald B. Rice.