Baccalaureate Mass and Commencement information

2016 Baccalaureate Mass & Commencement Information
Note: this information is subject to change
BACCALAUREATE MASS - Friday Afternoon, May 13, 2016
3:35 p.m. Seniors assemble in the southeast side of Angela exercise area.
Please enter through the East door - door nearest Havican Hall
Faculty, Administrators and dignitaries assemble in northeast corner of Angela exercise area. Please enter through the east door.
3:50 p.m. Procession begins
4:00 p.m. Liturgy begins
COMMENCEMENT -
Saturday Morning, May 14, 2016
11:30 a.m. Seniors assemble on the second floor of Le Mans.
If the weather forces the ceremony inside, they will assemble in Angela (as for the Mass).
Faculty and administrators assemble in Reignbeaux Lounge in Le Mans.
11:50 a.m. Procession begins
12:00 noon Ceremony begins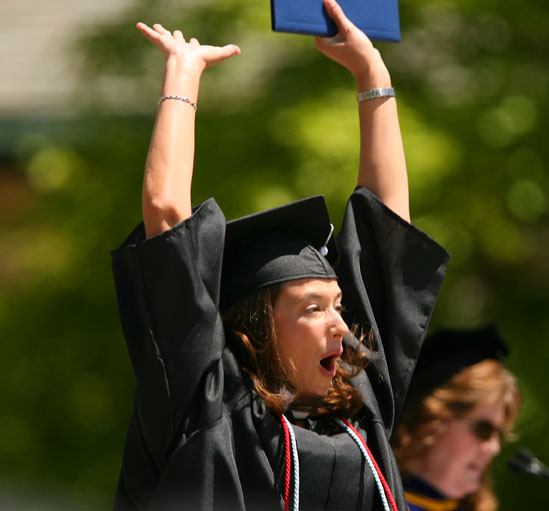 ATTIRE FOR BOTH OCCASIONS: The cap (tassel on left front), gown, and hood (folded to show College colors); black or navy shoes (since the procession traverses several stairs and the courtyard of Le Mans it is best to avoid high heels). In recognition of the formality of the occasion items of apparel such as flashy jewelry and corsages should not be worn.  Stoles given by departments, programs, and activities are not permitted for Commencement but are allowed at Baccalaureate.  Honor cords may be worn at both events.
ORDER OF PROCESSION: For the Mass, the order in which you line up is not critical as long as we have two lines of equal length, BUT FOR COMMENCEMENT IT IS VITAL. Lists which assign to each senior a procession number - L1, L2, L3..., R1, R2, R3..., will be posted in Le Mans by noon on Friday. These designate your place in either the left-hand or right-hand line. Names of those seniors who are to start a new row of seats will be designated with a star--those so designated should identify themselves to the Marshal as they come down the aisle. You can tell family and friends that the left row will be seated on the lake side if the exercises are held outside and on the locker side if they are inside.
RECEIVING THE DEGREE: A Marshal will instruct you when it is time to leave your seats. Wait at the top of the stairs. As your name is read, go to center stage, take the diploma in your left hand and shake hand of the President with your right; then go on across the stage and down the other stairs. Return to seat via center aisle and be seated. In the unlikely event that you receive the wrong diploma, the Registrar's office will be open following the exercises for an exchange.
ORDER OF RECESSION: The faculty leads the recession, followed by the seniors starting from the front. The procession will disband in front of O'Laughlin.
IMPORTANT: Either outside or inside, please do not break ranks until a signal is given. If the front of the row stops, your classmates will be trapped in their seats.