Department of Biology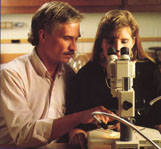 The goal of the Department of Biology is to provide each student with the opportunity to discover for herself the richness and excitement of the life sciences. Our program offers in-depth laboratory and field experiences, a broad spectrum of courses, and a supportive learning environment. Laboratory sections are kept small to enable close faculty/student interaction.
We believe the objective of an undergraduate major in biology is to touch the breadth and depth of the discipline while learning skills, concepts, and techniques that allow a student to have many options upon graduation. Our individualized research experience conducted junior and senior year, for example, has been praised repeatedly by alumnae for successfully preparing them for a job, professional school, or a graduate program.
An atmosphere of encouragement allows each student to achieve her full potential. All faculty participate in individualized academic and career guidance throughout the four-year course of study. The diversity of courses offered in the Department ensures that a student can tailor her academic training into one of many concentrations.
A major in Biology prepares a student for medical, dental, veterinary and other related schools, graduate school, and a diversity of careers in science-related areas. Saint Mary's graduates have been accepted at dozens of medical schools and other professional programs across the country. The students interested in health related careers, and in particular medical school, receive strong training in the sciences. The preprofessional advisor offers thorough guidance on the admissions process.
Examples of the diverse careers pursued by Biology graduates from Saint Mary's College include toxicologist, pediatrician, dietitian, veterinarian, high school biology teacher, exercise physiologist, physician assistant, optometrist, surgeon, hospital sales, naturalist, research scientist, zoology professor, environmental specialist, pharmacologist, speech pathologist, marketing representative for scientific equipment, medical technologist, forensic specialist, physical therapist, occupational therapist and cytogeneticist.
Periodically we publish a SMC Biology Newsletter that provides information about our current students and faculty as well as the latest news we have received from our alumnae - it is provided on this site under Alumnae Resources or Student Resources.