Outstanding Faculty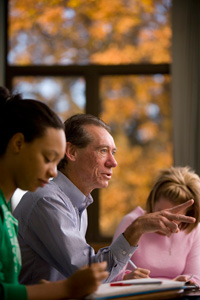 Saint Mary's faculty are experts in their fields who hold degrees from prestigious universities; they focus on teaching and making you their priority in the classroom. They'll draw you into conversation and engage you in activities. It's a supportive environment where you will gain confidence as you gain knowledge.
"I'm not just mentoring our students as a speech and language pathologist or as a teacher, but also as a woman and as another human being."
—Susan Latham, assistant professor, communicative disorders
Statistics
Eighty-four percent of Saint Mary's faculty have terminal degrees in their fields. You'll learn in small classes averaging 17 students with a student-to-faculty ratio of 10:1. Faculty will know you and guide you - you'll be taught by professors, not graduate teaching assistants.
Achievements
Saint Mary's faculty have tremendous credentials and achievements. Just a few of many recent faculty accomplishments include:
Want to know more? Explore our faculty profiles to learn about the community of scholars who will help you learn, grow, achieve, and succeed at Saint Mary's College.