Outstanding Faculty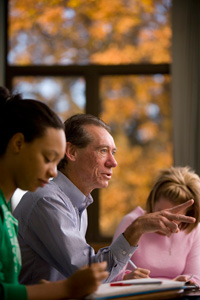 Saint Mary's faculty are experts in their fields who hold degrees from prestigious universities; they focus on teaching and making you their priority in the classroom. They'll draw you into conversation and engage you in activities. It's a supportive environment where you will gain confidence as you gain knowledge.
"I'm not just mentoring our students as a speech and language pathologist or as a teacher, but also as a woman and as another human being."
—Susan Latham, assistant professor, communicative disorders
Statistics
Eighty-three percent of Saint Mary's faculty have terminal degrees in their fields. You'll learn in small classes averaging 15 students with a student-to-faculty ratio of 10:1. Faculty will know you and guide you - you'll be taught by professors, not graduate teaching assistants.
Achievements
Saint Mary's faculty have tremendous credentials and achievements. Just a few of many recent faculty accomplishments include:
Terri Russ, Assistant Professor Communications, Dance, and Theatre was awarded the 2014 Brian Douglas Hiltunen Faculty Award for the Scholarship of Engagement by the Indiana Campus Compact.
The Spes Unica Award for teaching, scholarship, and service was awarded to chemistry professsor, Toni Barstis at Commencement 2013.
The Maria Pieta Award for teaching excellence awarded to assistant professor of humanistic studies, Laura Ambrose at Commencement 2013; history professor William Svelmoe received the award in 2012.
Jayne Kendle, associate professor of nursing, was presented The Kevin J. (ND '77) and Marijo Rogers Kelly '77 Service Award in February 2013. This award recognizes a faculty member who demonstrates exceptional commitment to local, regional, national, or international service to his or her academic field.
Business professor Mary Ann Merryman, who led a team of accounting students to first place in the 2010 and 2011 Indiana Certified Public Accountant Society's collegiate contests, was presented The Donald R. (ND '73) and Nora Barry Fischer '73 Faculty Award for Teaching Excellence in February 2013. This award recognizes excellences in discipline-specific teaching by a faculty member in upper-division courses in a major.
Want to know more? Explore our faculty profiles to learn about the community of scholars who will help you learn, grow, achieve, and succeed at Saint Mary's College.