ALL TOGETHER
Guidelines for the Fall 2021 Semester
Since June 1, we have been preparing for the fall semester in many ways. Our goal has been to create a fall semester that is full of the typical activities and traditions of the season, while continuing to consider CDC and Indiana Department of Health guidelines. We are confident that even with the unpredictability of the Delta and other variant strains, by following the science, routinely reviewing emerging data and remaining flexible, we can ensure a successful fall for our entire campus community. Our data from the Fall and the Spring semesters help us remain confident that we can remain All Together for the 2021-22 academic year.
Our fall guidelines are influenced by the fact that we are a highly vaccinated campus in a county that has an increased level of transmission. They can be found in full by clicking the Health and Safety Standards button. For those traveling to our campus in the coming weeks, below are the current College visitor and masking policies. 
Visitors to Campus
We are pleased to announce that campus is once again open to visitors, who are asked to honor the College's and local health officials guidelines. All visitors, regardless of their vaccination status, will be required to wear a mask indoors. As a reminder, members of the tri-campus community are not considered visitors and should follow Saint Mary's masking and other protocols while on campus.
Masking
All members of the community are encouraged to carry a mask with them at all times and be prepared to wear it when required. In situations when not required to mask, members of the community are encouraged and welcomed to mask any time they prefer to do so.
Now through September 30—all students regardless of vaccination status and unvaccinated faculty will be required to wear masks in the classroom. Vaccinated faculty have the discretion to remove their mask in the classroom if it is best for student learning that they teach without a mask, and if the faculty member can physically distance themselves from others in the classroom. In addition, we ask that all members of our community mask in offices where use of a mask is requested. 
Individuals who are unvaccinated or not yet fully vaccinated are required to wear masks indoors. An individual is considered fully vaccinated two weeks after their final COVID vaccination dose has been received.
In addition to following Saint Mary's masking requirements, athletes will follow NCAA and/or MIAA masking guidelines.
Fall Break, Thanksgiving, and More
The mid-semester break for the Saint Mary's community will be Saturday, October 16 to Sunday, October 24. The Thanksiving holiday will be observed from November 24 – 28. Finals week begins Monday, December 13. Classes resume Monday, January 10, 2022.  
Caring for our Community
Our ability to come together for in-person instruction depends on suppressing the spread of COVID-19 in our community. The broad immunization of our campus community is critical to achieving this goal. Because we are a congregate-living residential community, we must take every measure available to prevent this highly infectious disease. Earlier this year, we expanded our student immunization requirements to include the COVID-19 vaccine. To read more, click here. In addition, employees of the College were required to be immunized. As of August 23, 95% of employees are vaccinated and over 91% of students are vaccinated.
Document Your COVID-19 Vaccination
Students, to document your vaccination, please complete the Student COVID-19 Vaccination Information form. Employees, you must document your vaccination record using this form.  
For further questions, contact HCCenter@saintmarys.edu.
Prospective students are welcome to visit campus. Please see the Visit Campus page for further details.
The plans outlined by Saint Mary's College are dependent upon local, state, and national health and wellness guidelines, and can change according to the current state of COVID-19. We encourage you to watch for further updates via email communications and on this website.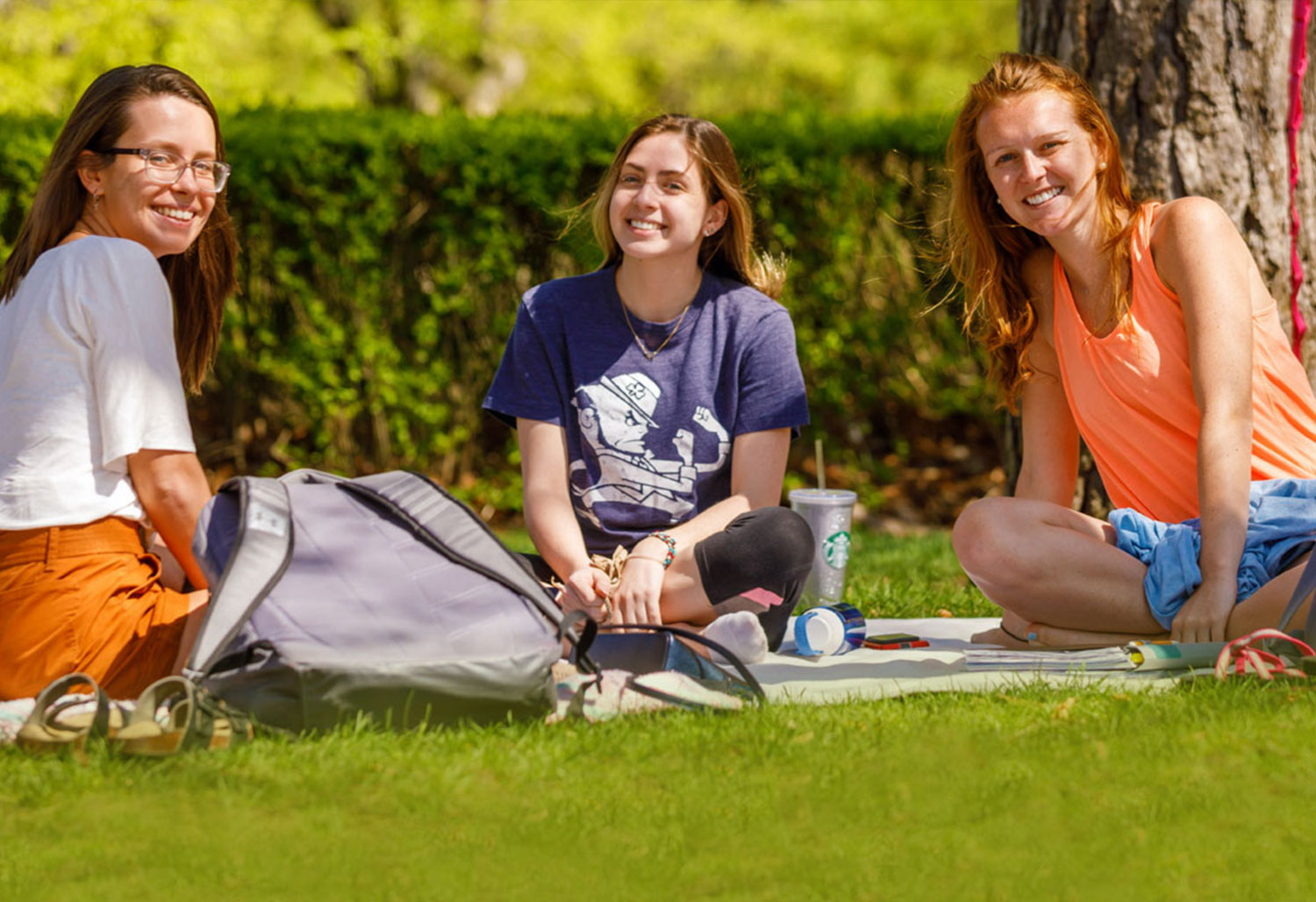 Frequently Asked Questions About Our Campus
+Does Saint Mary's College require visitors to wear masks?
All visitors, regardless of their vaccination status, will be required to wear a mask indoors. As a reminder, members of the tri-campus community are not considered visitors and must follow Saint Mary's masking and other protocols while on campus.
+Is campus open for visits from prospective students?
Yes! We welcome your visit to our campus! In an effort to protect the safety and well-being of the Saint Mary's community and our visitors, the following requirements will be implemented: Tour size will be limited to ensure proper physical distancing. All non-related guests are expected to maintain physical distance between one another. Unvaccinated visitors are expected to wear masks indoors and vaccinated visitors are welcome to wear masks if they would like, but are not required. Please visit our Admission webpage to schedule your campus visit.
+Is the bookstore open? Where can I eat on campus?
Our bookstore is open from 9 a.m. to 5 p.m. Monday through Friday, and 10 a.m. to 2 p.m. on Saturday. Several dining options are available: Murphy's Cafe, located inside Angela Athletic & Wellness Complex (M-F); The 1844 Cafe, which includes Starbucks (open daily) and the Noble Family Dining Hall (open daily), both located inside the Student Center.