Health and Counseling Center
Wellness is having the tools to make informed decisions about your health. We are here to empower and support you, whether it's answering questions, performing health services, or providing a counselor. 
We provide:
Testing for COVID-19
Health services and referrals
Confidential counseling services
General health education
Spring 2023 Semester
The Health and Counseling Center is here to support your health and wellness and will maintain its regular hours of operation: Monday through Friday, 8:30 a.m. to 5 p.m. Students can schedule appointments by phone with nurses, doctors and counselors. When possible, those appointments may be offered virtually through televisits. For appointments that require face-to-face meetings, we will have two separate waiting areas: One for visits such as allergy shots, orthopedic injuries, gynecological, and other well-student check ups, and for counseling appointments. The other waiting room is for students with upper respiratory symptoms that could be associated with the COVID virus.
Student Evaluation and Testing. A separate area of the Health and Counseling Center will serve as a COVID testing and evaluation center for students who develop symptoms or who suspect they have had close contact with someone who has tested positive. Special ventilation has been installed and appropriate PPE will be utilized to ensure our staff can safely offer COVID testing.
Call for an appointment.
574-284-4805
574-284-4833 (fax)
HCCenter@Saintmarys.edu 
(Email is for NON-EMERGENCY communication) 
The Health and Counseling Center is located inside the Angela Athletic & Wellness Complex.
Our Tobacco-Free, Smoke-Free Campus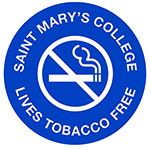 In November 2020, the College took an important step in advocating for the health and well-being of our students, faculty, and staff by becoming 100 percent tobacco and smoke free.  This means the use of tobacco or tobacco-related products (such as vaping and snuff) is prohibited on any Saint Mary's or Sisters of the Holy Cross property, including inside any vehicle.
We are proud to be part of this national movement to address smoking and tobacco use at college campuses, and to create a culture where our students can reject tobacco and be free from secondhand smoke. We are supportive of students who desire to quit using tobacco products. Smoking cessation tools and resources are available through the Health and Counseling Center and through the student portal.