Alumnae Profiles
Fashion Statement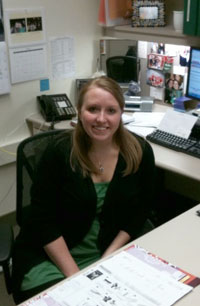 Alumna Molly Ritter Monceaux '06 does it all. As manager of special events for Macy's Midwest region, Monceaux finds herself playing the part of host, organizer, designer, and even fashion director for the department store's many events. In May, for example, she worked with the Louisville, Ky., store to organize Kentucky Derby parties with a huge focus on hats, the traditional accessory of the Derby.
Monceaux landed the special events position through contacts she made at Macy's while still a student. The humanistic studies major had an internship, arranged through Saint Mary's, at a marketing firm in Indianapolis. There, she worked with large accounts including Chevrolet Racing, General Motors, and Macy's. When a position at Macy's opened up, Monceaux was the first to know, and she delved into the world of fashion marketing with enthusiasm.
Monceaux has organized a number of exciting events for Macy's in addition to the Derby-themed parties, including a Clinton Kelly Makeover America event during which stylist Clinton Kelly from TLC-TV's popular program "What Not To Wear" provided styling sessions for participants.
While nurturing a busy career, Monceaux still finds time to give back to her community. It is part of who she is. As a student, Monceaux volunteered with several organizations including the Africa Faith and Justice Network (AFJN), Invisible Children, and the Sisters of the Holy Cross. She says the College nurtures students' desire to make a difference.
Monceaux has carried this desire into her post-graduate life with a volunteer position in the Community Impact Program for the Cook County State Attorney's office in Chicago. Monceaux spends times with children and teens who have been arrested, aiming to show them how their actions impact others and encourage them to make better decisions in the future.
Monceaux found her own mentors, like humanistic studies professor Gail Mandell, as a Saint Mary's student and says one of the perks of attending Saint Mary's was the personal attention she received from faculty. "At many larger schools you're on your own when determining your courses and overcoming challenges. At Saint Mary's, I never felt like I was on my own. I always had a professor, department head, or counselor to work through course or challenges with," Monceaux says.
That support, along with Saint Mary's broad liberal arts education helped prepare Monceaux for her career. "I've used everything from my finances and statistics course to English writing and history," she says. Monceaux confidently puts these skills to work for her in a varied and exciting career, whether she is planning a hat-centric event or providing hospitality for big-time celebrities.
Coming to Full Blossom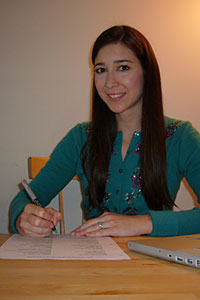 "Everyone who goes to a liberal arts school must make themselves marketable," insists Saint Mary's alumna, Lisa Maxbauer. And she would know. Maxbauer is now the Deputy Features Editor of First magazine, one of the best selling women's magazines on the market. She graduated in 1999 from Saint Mary's with a major in humanistic studies and minors in both art history and English writing.
"I loved everyone in the HUST department. I wanted to be a HUST major. No doubt about it." She credits the humanistic studies program for bringing out her inner voice. Professor of Humanistic Studies, Gail Mandell, noted how remarkable her transformation was. "By the end of the first year she [Maxbauer] was just blooming. She was one of the best! She also did well at leading seminars." It was not so easy, however, for Maxbauer to land a publishing job. After graduation, she headed for New York City with $1,700 in hopes of pursuing her dream job. Though she was offered a position in advertising, Maxbauer really wished to be in publishing. She landed an entry job with a small company, writing for Physician's Weekly. She knew little about medicine and health, though she was able to delve into any topic and explore because "Saint Mary's taught how to research and gather." Shortly thereafter, Maxbauer decided to pursue freelancing, which she enjoyed for three years. She wrote articles for publications, such as the Courier, Guideposts for Teens, Girls' Life, and The Golfer. Returning to the workforce, Maxbauer earned a position at First magazine. She was promoted three times, and now holds the title as Deputy Features Editor, overseeing one-third of the magazine. First reaches four million women 17 times a year, making it the fifth bestselling magazine in America and the bestselling women's magazine.
Maxbauer is an active member on the Saint Mary's campus serving a third year on the Alumnae Board of Directors. She is also a leader in the Saint Mary's, New York City Club, organizing events. She firmly believes in the difference a Saint Mary's education can make, as women can develop valuable skills and be supported by excellent professors who believe in them. Her best advice for Saint Mary's women is to take advantage of the networking possibilities with alumnae. In pursuing your dreams, Maxbauer speaks from her own personal belief and experience.
"Do what really makes you happy."
—Megan Stokes '09
Kristine King '08 discovered her passions at Saint Mary's.

  Kristine King '08 graduated with a double major in business and humanistic studies. Hear about Kristine's experiences with caring professors, hands-on learning, and study abroad in her own words.