Student Profiles
Follow the Leader
For Sarah Gunn, the summer before her junior year was more than fun in the sun. As an intern at St. Margaret's House in South Bend, the humanistic studies major took on the huge responsibility of making summer both a learning and entertaining experience for local children.
Sarah worked as the summer children's program director at Saint Margaret's House, a day shelter for women. As director, she organized a wide range of activities from arts and crafts to games, athletic events, and field trips for the children. "I tried to infuse some educational aspect into each activity too," says Sarah, of her effort to do more than just keep the children busy. Sarah says her favorite activities were "Around the World Week," Kids Yoga, and their field trip to the zoo. "I wanted them to be able to take something away from Saint Margaret's House and use it later, whether it be something physical or something they learned," says Sarah.
Sarah also performed other tasks around Saint Margaret's house, including cooking and working in the clothes closet. Her internship was through the Summer Service Program managed by the Office for Civic and Social Engagement (OCSE) .
Sarah credits director Carrie Call, and Olivia Barzydlo in OCSE for supporting her through her internship. "She [Call] really wanted our summer service experiences to be about our growth as people and not about just getting some work done for our placements."
Gunn says the Saint Mary's curriculum, which forced her to be "a more active student and person in life," helped prepare her for her summer job. "Without my experience at Saint Mary's I don't know if I would have been able to handle a leadership position with as much efficacy.
A Michigan State transfer, Sarah says she is amazed at the education she is getting at Saint Mary's. "Everyday is a unique experience at Saint Mary's. We have a very tight community and I have a feeling of family on the campus. I also get to have close relationships with my professors, which is not possible at a lot of schools. It's also unique to have our relationship with Notre Dame. Right now I have one class over there, and of course I'm going to the football games."
Boogie Fever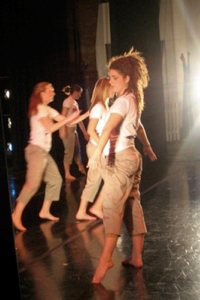 Sophomore Hannah Fischer wanted a non-traditional summer job, something that didn't involve sitting in an office from 8-5 everyday. She found her "no-sitting required" job at Saint Mary's Fine Arts Camp, as a dance counselor. "When I found out that I had the opportunity to help teach dance, I really jumped on the application. It is such a fun atmosphere – the dance studio – and it's something that I really have passion for. I'm glad to be able to share that with many young ladies."
The Granger, Ind., native is working on both a humanistic studies major, as well as a student-designed major in dance and video production. Hannah's previous dance experience includes a year of dancing with the traveling performing arts company 13th Floor. She currently stays involved in dance through the Saint Mary's Dance Company and the club, Dance Collective. "The club takes up much of my time and last semester I was highly involved in producing the student show with other students," says Hannah.
During the fine arts camp Hannah was assigned to a group of 10–14 middle school-aged girls, who stayed overnight for one week on Saint Mary's campus. "During the day I am in the studio, and I just cannot stop dancing!" says Hannah. "Each girl gets to take every art form, so we teach every camper a musical theatre dance from one of the decades. We keep the free time limited, but somehow there are always times when girls are dancing around in the hallways and running around to each other's rooms. During those times, I am available for them to help with any logistical or personal problems."
Counselors get in on the fun when they produce a midweek show called, Counselor Follies for the campers. "It is really fun and we all feel like rock stars afterwards," says Hannah.
In addition to her summer counseling position, Hannah also works at the Office of Special Events as an office worker and box office attendant. After graduation she plans to follow dance through graduate school, and then join the Peace Corps. "The more I learn about dance and culture, the more I really feel that dance needs to be more saturated in our culture. Instead of having a separate "artistic culture," I would like to help integrate arts and the humdrum of life."
World Traveler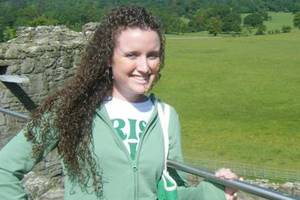 Kimberly Roland knew what she was looking for when she chose Saint Mary's—a small college where she would receive individual attention, yet still have a fun college experience. "At Saint Mary's I know I'm more than just a number," says Kimberly who is majoring in both political science and humanistic studies (HUST).
The native of Phoenix, Ariz., enjoys the best of both worlds—the across-the-street opportunity to take classes at the University of Notre Dame, as well as the personal attention and relationships she has developed with her professors at Saint Mary's. Kimberly sees Professor Gail Mandell as someone who has made a great impression on her.
"She is such an inspiring and pioneering woman," says Kimberly. "She is the reason I decided to pursue a second degree in HUST. She helped me realize the value of a liberal arts education and the importance of women empowerment." Kimberly says her favorite class was Lives and Times: Book Club, a HUST tandem class with psychology. "This class helped me see connections between subjects that I never thought possible. I especially enjoy the HUST aspect because it incorporates literature, history, and art history."
Kimberly is active at Saint Mary's, participating in the Diverse Students' Leadership Conference, the Student Diversity Board, College Democrats, Friends with Sisters, Campus Ministry, Belles for Fitness, and Take 10 Volunteers at Jefferson Intermediate School in South Bend. Active in politics, Kimberly worked as the chairwoman of Governor Janet Napolitano's Youth Commission for the State of Arizona. She also volunteered at presidential candidate Barack Obama's South Bend campaign headquarters, and she has been a volunteer for Project CURE, a non-profit organization that sends medical supplies to third world countries.
No stranger to travel, Kimberly will be spending her next academic year studying abroad in Rome. She visited England, Ireland, Wales, and Italy during high school, and she's also traveled to Mexico on mission trips. With her travel experience and Saint Mary's education, Kimberly will be ready for the next step after graduation. "I am planning on attending law school and pursuing a JD with a focus on human rights law," says Kimberly.