Annual Summer Seminar
For over 30 years, the Center has hosted a summer seminar that reflected the essence of its mission--to develop critical conversations around faith and reason, the individual and social dimensions of spirituality, and contemporary religious issues, particularly as they relate to women.
A Hunger for Wholeness: Exploring the Inner-Outer Universe
with Ilia Delio, OSF
June 10-13, 2018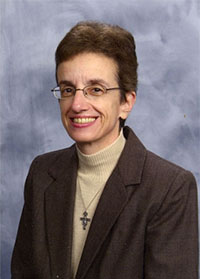 Ilia Delio, OSF holds the Josephine C. Connelly Endowed Chair in Theology at Villanova University. She is the author of seventeen books and lectures nationally and internationally in the area of Science and Religion, with particular interests in evolution, ecology and artificial intelligence. Sr. Ilia was the 2017 Madeleva Lecturer at Saint Mary's College. 
ONLINE REGISTRATION IS NOW OPEN. The early bird registration deadline is March 23.
For more information, download the seminar brochure. Detailed information about housing options is available here.
QUESTIONS
Please contact Kathy Guthrie, kguthrie@saintmarys.edu, or call (574) 284-4636.