The Writing Center
Making an appointment
Opening hours:
Monday - Thursday, 11 a.m. - 4 p.m.; 6 p.m. - 8 p.m.
Friday 11 a.m. - 2 p.m. Sunday 6 - 8 p.m.
This semester, we've added online-only morning hours:
Wednesday and Thursday, 9 a.m. - 11 a.m.  
Register for a free account at saintmarys.mywconline.com 
Undergraduates can make an appointment directly on the schedule. 
Graduate Students (who only work with the director) and those working on Group Projects should email writingcenter@saintmarys.edu to set up appointments. 
Faculty can contact writingcenter@saintmarys.edu about our Faculty Writing Groups or with any questions. 
The Saint Mary's College Writing Center is a teaching and learning resource, staffed by peer tutors, one graduate tutor, and administered by a director who specializes in writing studies. We were founded in the 1970s by a student and initially called the Saint Mary's Writing Clinic. We are located on the third floor of the Cushwa-Leighton Library and we provide in-person and online tutorials.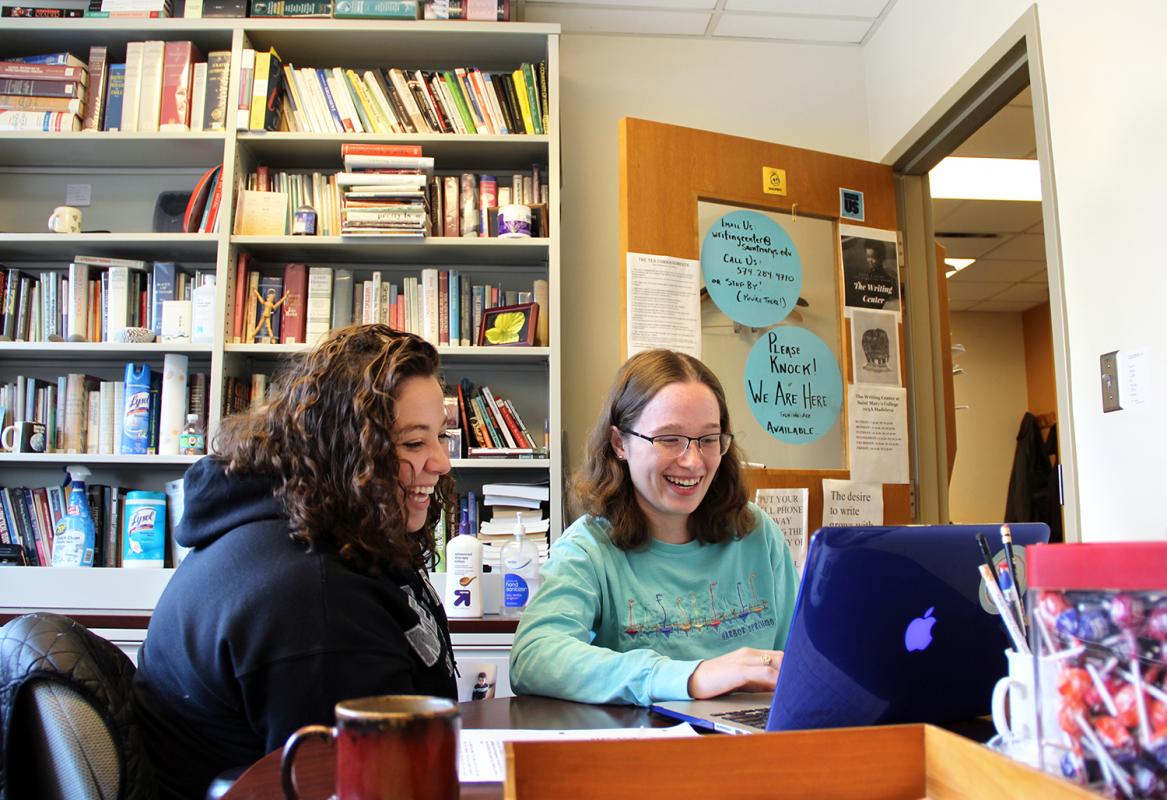 Upcoming Events: 
Wednesday, September 22, 6:30-7:30 p.m. || Style in the Aisles: A Workshop on APA Style || Writing Center, 3rd floor, Library || We will review how to make both in-text citations and reference pages, providing samples and giving feedback on students' work in progress.
Wednesday, October 6, 2 p.m. – 6 p.m. ||  Fall Write-In || Writing Center, 3rd floor, Library and Online (check email for link) || Work together to meet those writing deadlines before break both online and in-person in the Writing Center. This four-hour session is open to all Saint Mary's College community members and is a way for us to join together and make writing visible. 
Wednesday, December 1, 6-9 p.m. ||  Write Here! Write Now! || In partnership with the Library || First floor of the Library || This event is designed to support all students, but is timed to specifically support those completing their Basic W portfolios. Writing Center tutors and a research librarian will be on hand for walk-in appointments.