The Spirit of Song
By Lauren Zyber '17 
In a small, ringing church in Kansas City, the Saint Mary's College Women's Choir encircles the audience to sing "The Bells of Saint Mary's." This is the fifth stop on our 2017 Spring Break tour, and I could sing this song with my eyes closed. But I don't. I keep them open and see the tears of the alumnae who have come just to hear us sing. That's when I know that the spirit of song is something that remains in our hearts, long after we graduate from Saint Mary's College.
Thanks to the help and support of alumnae, the Women's Choir traveled to Colorado in March, making performance stops along the way. At our first stop in Indianapolis, we joined a children's choir conducted by Angie Schott '13. Not only was it a joy to sing with Angie's lovely choir, but Angie also helped arrange a dinner and housing for us. Jackie Schramm '17 stayed with an alumna that night along with a few other members of the choir. 
"[We] sat around her kitchen table that night for at least an hour talking about Saint Mary's and sharing stories," Jackie said. "She even asked us to encourage her youngest daughter to become a Belle." 
A similar experience happened when Jackie and I stayed with an alumna in Denver. Sherstin Truitt Lommatzsch '98 was a member of the Women's Choir and a music major at Saint Mary's. She went on to medical school and is now a pulmonologist. Jackie and I enjoyed hearing about her time in the choir and how she fell in love with Saint Mary's the minute she walked on campus. We talked about how studying abroad changed our lives, and she assured Jackie and I, graduating seniors, that life beyond Saint Mary's would be just as fulfilling as our four years there.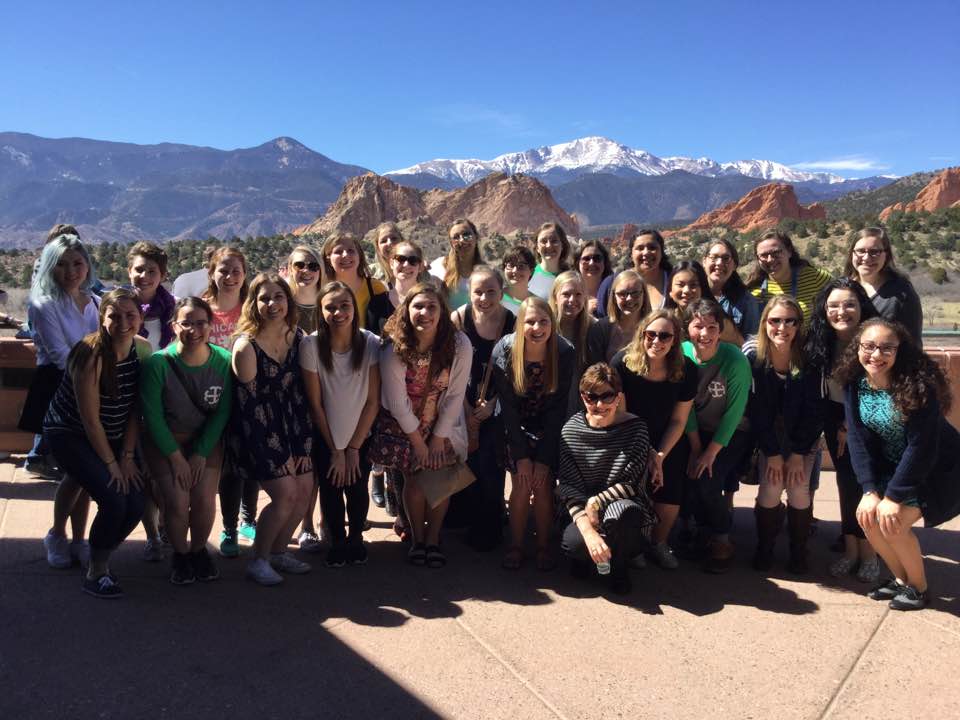 At this time, I was still in denial about graduating and leaving behind the friends I met through choir. Being on this tour with some of my best friends made it even harder. These are the friends that I sing with in joy and sorrow, the ones I laugh with, the ones who understand that harmony isn't only sung in a choir but is also a language of friendship. The love I have for Saint Mary's is rooted in the outstanding choir I was blessed to be a part of, where I found a home and a family.
Seeing many generations of Belles that have been scattered across the country come back to listen to their choir was a testament to the deep roots that Saint Mary's plants in our hearts. This alumnae connection is something the admission team often talks about. And witnessing the outpouring of alumnae support during our tour made me realize it was no exaggeration. 
Our 30 singers were treated to generous support in so many ways: staying with alumnae in their homes; a private tour of the Olympic Training Center from Audrey Ballinger '08; hearty meals, often authentic to whatever city we were in; and seeing all the alumnae in the audience, especially those who traveled some distance just to hear us sing. This generosity is what it means to be a Belle: helping other Belles, no matter what. 
After witnessing the kindness and support of these outstanding women, I knew Sherstin was right: the Saint Mary's community doesn't fade after graduation; life after Saint Mary's will be very fulfilling. The Saint Mary's family I found in choir will endure, like the spirit of song that keeps singing in our hearts.