Giving Opportunities
There are many ways to show your confidence and commitment to the future of Saint Mary's College. A strong Annual Fund means that Saint Mary's can continue to offer students an excellent education without dramatic increases in tuition or eroding the strength of the endowment.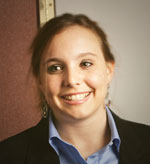 "I hope, when I am a Saint Mary's alumna, I will be able to help students the way alumnae donors have helped me. They have made it possible for me to attend Saint Mary's. I am extremely grateful to them."
—Amalia Dickenson '08
Give by Credit Card

Use our secure web site to make your gift by credit card or call 800-SMC-8871. We accept Visa, MasterCard, American Express, Diners Club and Discover Card.

Give by Check

Please make checks payable to Saint Mary's College and mail to:
Saint Mary's College
Development Office
110 Le Mans Hall
Notre Dame, IN 46556-5001

Join a Society

Show your support to Saint Mary's by joining one of our distinguished giving societies: The Madeleva Society ($1,000 and above annually), The Tower Society ($500-$999), or The Avenue Society ($200-$499). For more information, please contact Heather Frey at (574) 284-4580 or e-mail.

Electronic Funds Transfer

Electronic Funds Transfer (EFT) makes giving easy and turns a small monthly contribution into a larger gift. Download the form to sign up today. The College will deduct a stated amount ($10 minimum) on the 10th of each month from your bank account. For more information, call (574) 284-4588 or e-mail.

Increase Your Gift through a Matching Gifts Program

Saint Mary's benefits when companies match the gifts of their employees, spouses, and retirees. See if your company has a matching gift program. You may double or triple your gift to Saint Mary's by sending us your Corporate Matching Gift form (check with your Human Resources Department). For more information, contact Melissa Jackson at (574) 284-4852 or email.

Support Your Reunion Gift Campaign

Reunion is an opportunity to relive memories, renew friendships, and even make new friends. Celebrate your Saint Mary's experience by helping your Class Campaign support much needed student scholarships. Make a three-year pledge to Saint Mary's College and volunteer as a committee member on your Class Campaign in your reunion year. More information.

Make a Gift of Stock

An outright gift of stock is can make a significant difference at Saint Mary's. With your written permission, your broker can transfer a stated number of shares electronically to the Saint Mary's College account #NTG-027743 at National Financial Services DTCC #0226. If you have any questions, please call Adaline Cashore '70 at (574) 284-4706 or e-mail. More information about a manual transfer of stock.

Include Saint Mary's in your Estate Plans

Planned gifts can provide wonderful benefits to you and your loved ones both now and in the future, while providing financial support to Saint Mary's College. The Mother Pauline Society recognizes planned gift donors. To create a lasting legacy at Saint Mary's, contact Jennifer Winnett Denniston '98 at 574-284-4600 or email. More information.

Make a Memorial or Tribute Gift

Memorial gifts are timeless gifts to remember family and friends who hold a special place in your life. Tribute gifts provide a meaningful way to celebrate special occasions and anniversaries. Get more information about these gift opportunities online, or contact Adaline Cashore '70 at (574) 284-4706 or e-mail.