Student Conducts Crohn's Disease Research in "New" Science Hall
By Haleigh Ehmsen '16 
In the expanded and renovated Science Hall, you'll find biology major Makayla Schmitt '17 researching a disease. It's personal. Schmitt has Crohn's and her advisor, assistant professor of biology Calli Davison Versagli '09, suggested she research the disease.
"Without her, my research wouldn't be possible," Schmitt said. "Dr. Versagli has been an amazing mentor and has taught me so much about research. This project is one of a kind and incredibly difficult. She has a lot of faith in me, allowing me to take this on. She inspires me to work even harder."
Science Hall's new tissue culture lab and state-of-the-art technology allow Schmitt to conduct research that wouldn't have been possible on campus previously. She looks forward to how her research here may improve the lives of others.
Crohn's is a form of inflammatory bowl disease that affects approximately 1.6 million Americans. A common complication of is the development of strictures, or narrowing of the intestine. In addition to developing strictures, Crohn's patients display a high level of oxidative stress in the intestine. Schmitt hypothesizes that increased oxidative stress displayed in patients could promote expression and secretion of different proteins that ultimately could promote the development of strictures. It is possible that developing treatments that eliminate oxidative stress could help prevent the development of strictures in Crohn's patients.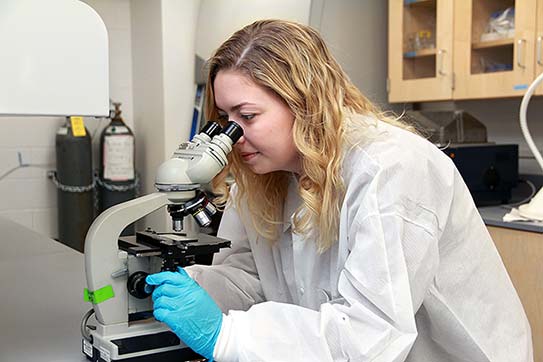 "I believe if I can identify a connection between oxidative stress and the development of strictures, there is a possibility new treatments can be created to reverse the damage," Schmitt said.
Still the research is difficult.
"There have been times when I wanted to give up because I felt the task I am trying to complete is impossible, but Dr. Versagli pushes me forward and I am so thankful that she has. My hope is that this Crohn's research will benefit patients like me one day."