Science Hall Dedication
Speech by Jennifer Mathile Prikkel '95
October 14, 2016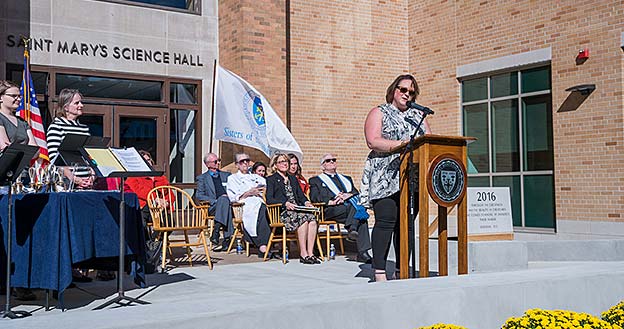 Since my mom and dad were unable to attend this dedication due to illness, I hope to convey their presence through my words. I will share with you two quotes that mean so much to them, and offer you insight into why this monetary gift for the Science Hall renovation is more than just a donation… You see our gift to Saint Mary's is a representation of our life's work…
My parents, Mary Ann and Clayton Mathile, and myself are people of strong faith, who feel called to share God's blessings with others…much like the Sisters of the Holy Cross whose compassion moves them to reflect on the signs of the times, discern needs, and respond. My parents and I also consider Saint Mary's mission, "to prepare students to make a difference in the world," as congruent to our own purpose.
Plainly said, we invest in projects that make God's plans come to fruition. Dad's favorite quote is, "Dream no little dreams for they have no magic to move men's souls."
The vision that Saint Mary's was deserving of a state of the art science facility was a BIG dream… and a big ASK… But President-emerita Carol Ann Mooney had the boldness to ask us to invest in the Science Hall …and she moved my family's collective soul. Now… imagine the souls who will be moved to further scientific research, which will benefit our community and our world. Our students and faculty now have a space worthy of their passion, devotion, and knowledge and that feeds my soul. …Because where better to invest one's money than in the mind and the heart of another human being?
Here's Mom's quote, from Saint Teresa of Calcutta: "I can do what you can't do. You can do what I can't do. But together we can make something beautiful for God."
Well…I think we are standing beside a place that is pretty darn beautiful and Lord knows I can't do the science…so thank goodness we could provide the funds to make the Science Hall project happen.
There is something so special and unique about Saint Mary's…I can tell you…as an alumna… that the education and experience here is transformative. My parents have seen this, first-hand, in me and in their granddaughter and my niece, Lauren, who is a sophomore. Saint Mary's College allows students to identify and embrace their inherent God-given gifts. …Here… truly… the mind and spirit are educated. You see it in the students and faculty that occupy the Science Hall… the passion they have for their research is inspiring.
Listen to how our science Faculty and Students use the Science Hall's first class facilities to do their meaningful work.
Not only does the College have its first patent for the Paper Analytical Device, or PAD, that Chemistry Professor Toni Barstis and her students invented, now there's plentiful lab space to expand that research.
Chemistry and Biology faculty and students will be in Nepal next summer using the PADs to test drug and water samples for substances that can harm people... Back here in the Science Hall, the PADs results will be validated using "gold standard" instrumental and computational image analysis.
The PADs Project - has become a large, multidisciplinary research project, with physicists, chemists, biologists, mathematicians, and computer scientists working together to solve serious global health issues… Now they have suitable facilities to do that work.
And there is more important research going on here. Assistant Biology Professor Joel Ralston and seniors Kathryn Marshall, Emily Crimmins, and Emilie Vanneste are studying how climate change may impact birds found in the Upper Midwest. Their research includes genetically analyzing blood samples and using computer modeling to understand what's going on.
Assistant Professors of Chemistry, Kathryn Haas and Jennifer Fishovitz, are using the new interdisciplinary teaching lab to engage students in exciting research projects where students use chemistry to tackle real world problems, like Alzheimer's disease.
Right here on this campus, science and research is being blown wide open with the unique perspective and passions of young women who want more for our world.
So, I can say with certainty that this gift to Saint Mary's was an honor and privilege for myself, as a graduate, but also for my parents. There are few chances in one's life when you are called to make an impact in the lives of others. So as I always do…I challenge each of you to find your place on this campus and see where you can make an impact with your time, talent, or treasure. Our faculty here at Saint Mary's are one of a kind and I can promise you there is no better reward than investing in the mind of a woman, especially one who calls herself a Saint Mary's Belle!
Big dreams, movement of souls…teamwork and God's work. That is what is happening here at Saint Mary's and We are so honored to have been a part of it.