French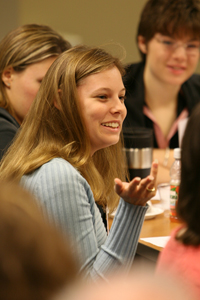 As a French major at Saint Mary's College, you'll acquire proficiency in the four basic language skills: listening, speaking, reading, and writing. You'll gain broad knowledge and appreciation of the literature, history, and culture of the countries where French is spoken. All courses—beginning, intermediate, and advanced—are taught by dynamic professors who are active scholars in their field.
By studying abroad through Saint Mary's program in France, you'll have the opportunity to immerse yourself in French language and culture. Back on campus, you'll take your language skills to the next level through French poetry, fiction, and cultural studies courses. Classroom discussion and interactive work in the Language Learning Center will build on your strong foundation.
If you're interested in teaching French, you can take courses leading to secondary education certification.
"Through the French Department I was able to study abroad, and they ensured that all of my credits from my time abroad carried through. I had the best experience at Saint Mary's and I wish I could go back!" —Kimberley Tayner '06
Writing in the major
At Saint Mary's, French majors learn to communicate with precision and style in their language of study. You will work closely with faculty, sometimes revising and rewriting drafts, to develop strong writing skills in French. By completing the portfolio requirement for the French major, you will also fulfill the advanced writing proficiency requirement at Saint Mary's College.
Senior comprehensive examination
In the final semester of your senior year, you'll have the opportunity to demonstrate your knowledge of the language, literature, and culture of the French-speaking world through written and oral examinations. Your professors will draw questions from the material covered in classes for the major, evaluating your answers for both your knowledge and use of French. For the written portion of the senior comprehensive exam, you will focus on four areas of your choice. For the oral portion, you will discuss your written exam in French and have the opportunity to ask faculty additional questions.
Hands-on learning
At Saint Mary's, you'll have countless opportunities to improve your French through classroom discussion and interactive computer programs in the Language Learning Center. You'll be able to immerse yourself in the language and culture through the Saint Mary's study abroad program in France.
You might also use your French language skills in a summer job or internship. Imagine working at a multinational company based in France or teaching English to French high school students.
Careers
In today's global economy, employers prefer job candidates with foreign language experience. As a Saint Mary's French major, you can prepare for a career in education, communications, business, law, government, and many other fields. Many graduates continue their French studies in top programs around the country.